After what had been one of the most painfully challenging years of my life, I decided that I would close out 2022 with a solo adventure to Jamaica. I felt the need to work on some personal, emotional, and spiritual healing and growth before welcoming in a new year and a change of scenery would help me do that.
I had settled on Negril, Jamaica for various reasons. I knew I wanted a tropical destination to warm my bones in the thick of a Western New York winter season while keeping it relatively affordable. Cheap flights, easy access to the smaller Caribbean city from Montego Bay, a seven-mile strip of crystal-clear beaches, and a plethora of recommendations from family members who had previously gone had me locked in. And while much-needed solo time was my overarching plan, the actual shape of each day landed on a perfect balance of relaxed downtime and adventure under the Caribbean sun.
PART 1 – Where To Eat & Drink
Negril is home to some amazing flavors. I literally ate out every day on my trip, with dinner being my splurge meal of the day.
Central Negril:
Grabbing a bite to eat in central Negril is very easy since most of the restaurants, bars, and resort-hosted food hubs are located right on Seven Mile Beach. What's even better is that a lot of restaurants will work with tourists and help arrange pickup taxis and shuttles to bring you to dine. It sounds a little needy but… it's also pretty dang convenient.
If you want to start your day off with a dose of beachfront sunshine, head over to Travellers Beach Resort. This family-owned boutique hotel features a beautiful seaside patio overlooking the ocean, and you'll be eating fresh fruit, local dishes, and comfortable cuisine under a canopying seagrape tree. Make sure to bring your bathing suit and snorkel, because there's a great little coral stretch out into the property's nearby waters.
Coco La Palm is another great place to wake up and dine at. As one of Negril's largest boutique hotels, you'll be treated with some exceptional service at its Marley's By The Sea restaurant. If you're a fan of eggs Florentine, make sure to try the island's specialty of Ackee & Saltfish and pair it with a freshly squeezed cup of pineapple or papaya juice. You can't go wrong with a coco-bread breakfast sandwich either.
Let's make one thing clear: You can't go to Jamaica without trying an authentic Jamaican patty. While I found it hard to set time aside to sit down for lunch, Hammond's Bakery was the perfect option. Here you'll find a quick grab-and-go style bakery boasting a variety of traditional Jamaican patties, including beef, chicken, cheese, or vegetable.
Skip out on being a tourist at Margaritaville and sip a cheap, strong drink at a cool bar instead. Bring a joint along to The Boat Bar (or buy one there) and unwind with some free live reggae music every Friday at 3 p.m., drift away to the sounds of reggae jazz and blues with a Red Stripe beer at Drifter's every Sunday at 3 p.m., or indulge in 2-for-1 Happy Hour drinks (we had some Dirty Bananas) and lobster pizza at Rondel Village.
For dinner, head over to Miss Lily's for all your jerk flavor cravings. Here you'll find a fairly large menu with traditional Jamaican dishes and creative spins of island cooking. Its on-display jerk smokehouse and BBQ grilling station produce any smoked or seasoned protein of your choosing, including chicken, pork, or fish. You also can't go wrong dining under the restaurant's disco ball.
West End:
The cool thing about Negril is that it boasts a beautiful white-sand coastline but also has some pretty amazing rocky cliff terrain. Make sure you spend some time in the West End for breathtaking views as you sit, sip, and eat.
If you want the ultimate fancy cliff-side sunset dinner experience, you must go to The Cliff. You'll walk into an open-air luxury hotel lobby and through a gorgeous pool area to the on-site restaurant, ZEST. A short 15-minute drive outside of Negril's city center, you'll sit overlooking the Caribbean Sea among elegant rock paths. Photos don't even do this place justice.
The restaurant offers a five-point experiential dining experience centered on zest, curiosity, gratitude, optimism, and love. I ate the whole Coconut Rundown Lobster when I went. As good as it is, you'll likely have the place to yourself or find only a couple of other people there.
The same is true for Rockhouse and Catcha Falling Star Ivan's Bar & Restaurant. Easily the most scenic and romantic restaurants I've ever been to. Make sure to get there at least 30 minutes before sunset for the best experience to meander through the fairytale castle-like stone walkways and infrastructure. You must try Escovitch fish when in Jamaica, and both of these places had top-notch Red Snapper filets done up in traditional Jamaican flavors.
Rockhouse is also connected to Pushcart, which offers a more laid-back style dining experience right up against the cliffs.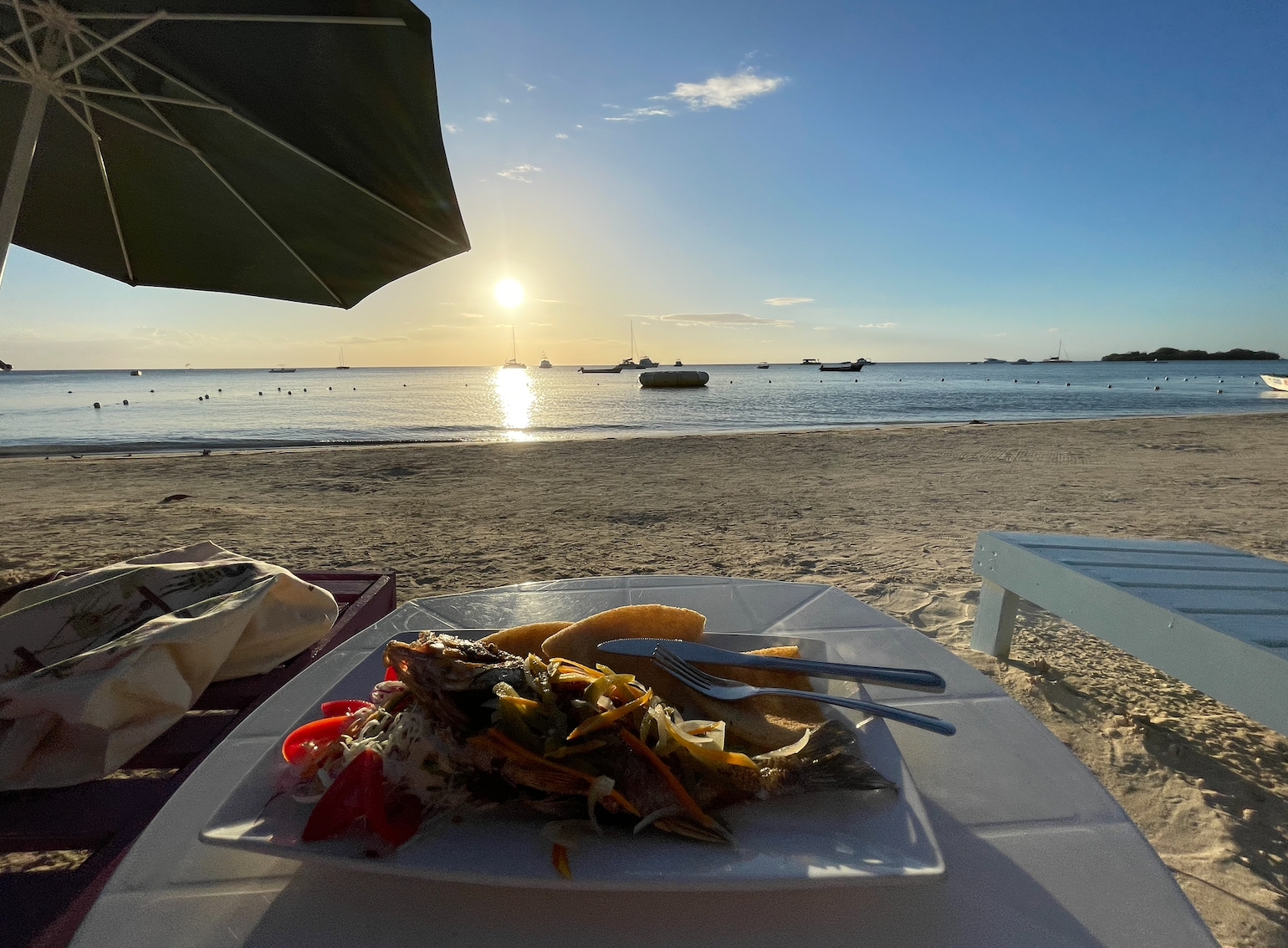 On your way, hit up Patsy's for dessert. I mean, who doesn't want homemade churned ice cream to end your day in the Caribbean? There's even a ganja-infused ice cream if you want to conclude your evening on a high note.
PART III – Where To Sleep
The whole point of travel is to live among the locals and integrate yourself in the local culture. In Jamaica, it's very easy to stray from that mindset and book yourself a room in any of the dozen bougie, all-inclusive resorts that line Negril. But what is the whole point of traveling to a new place if you stay stuck in one location, eating and drinking unlimited amounts of what is available and given to you without seeing what the country and culture has to really offer?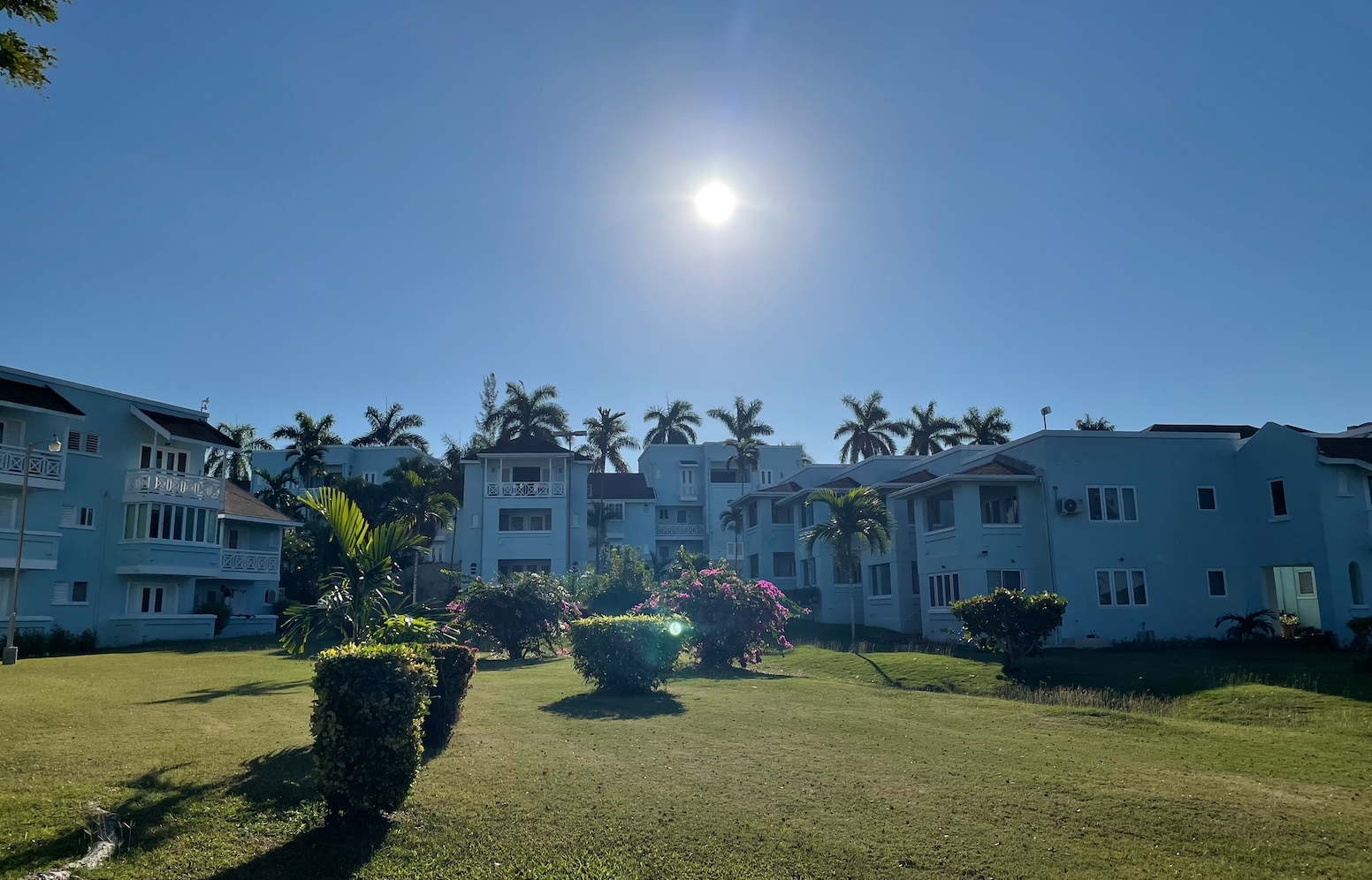 This is why I don't stay at resorts.
Instead, I stayed on the same Seven Mile Beach lined with all the resorts and resided in a beautiful studio condo at The Point. This gated community hosts several dozen baby blue, beachside condos that are occupied by fellow world travelers, expats, and locals alike. I literally felt like I was living in a sliver of paradise. The property offers 24/7 gated and on-site security, two private beaches, an outdoor pool, tropical gardens, brand-new tennis courts, and rocky terrain perfect for snorkeling.
What made this a gem even better is that I felt close to everything. The beaches in Negril are all public, so I was able to wake up with the sun a lot of mornings and walk the beach throughout all of the resorts. This also allowed me to see all of these cute boutique hotels and all-inclusive resorts without needing to stay there. Most of these resorts do offer day passes though, so if you feel like treating yourself to a luxury all-inclusive experience then you can do so.
If you feel like you're someone who is a little adventurous and open, Hedonism II borders The Point. The name suits this all-inclusive, clothing-optional resort where all guests are there to pursue the ultimate pleasure. There are really no rules at Hedonism II, so you never know what you might see or encounter on the grounds. The unlimited food and drinks are just the tip of the iceberg there. You can also buy day passes to most of the surrounding resorts, including the Riu, Sandals, Azul Beach, Royalton, Beaches, Couples Swept Away, and more.
If you're wanting more scenic cliffs instead of the beach, there are some really beautiful resort and hotel rentals over on the West End. The Cliff, Rockhouse, and The Caves are all great options to wake up to some crashing Caribbean waves. To book a condo at The Point, click here.
PART II – Where To Beach
It's pretty much assumed that you'll be spending quite a bit of time on the beach while in Negril. Luckily, there is a seven mile strip of beautiful white-sand beaches going all along the main road. You literally can't get lose track of where the beach is in Negril.
At The Point, there was a small and quiet family beach overlooking Booby Cay Island. If you hate tan lines like me, then going to the adult-only nude beach on the western part of the property offers better sun-kissed views.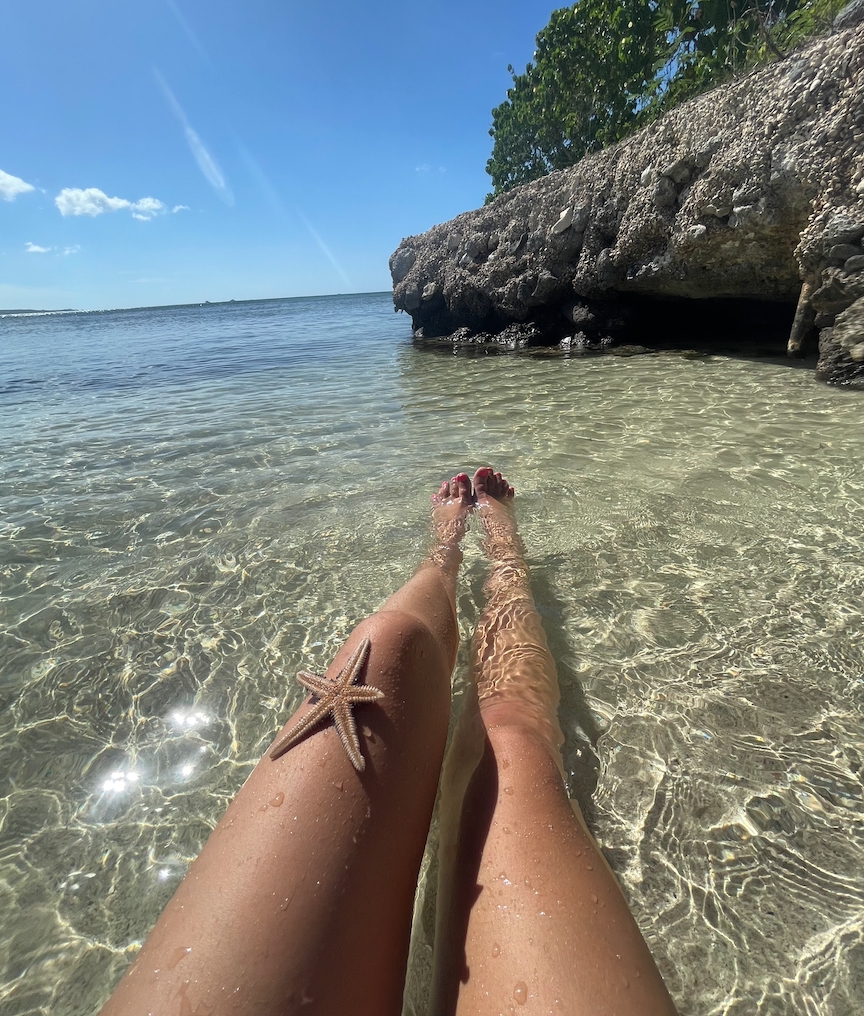 The beaches in Negril are all public – except the ones at The Point – so you can walk through the whole Seven Mile Beach if your little heart desires. I realized that walking west out of The Point's nude beach all the way to Margaritaville offered the perfect four-mile round-trip walk to catch the sunrise and sunset. There's also a local family that sells fresh coconuts at a little stand on your walk there so you can stop and drink fresh coconut water. I walked alone throughout multiple beaches on and off resorts and never felt unsafe, especially with all the dogs and cats freely roaming around.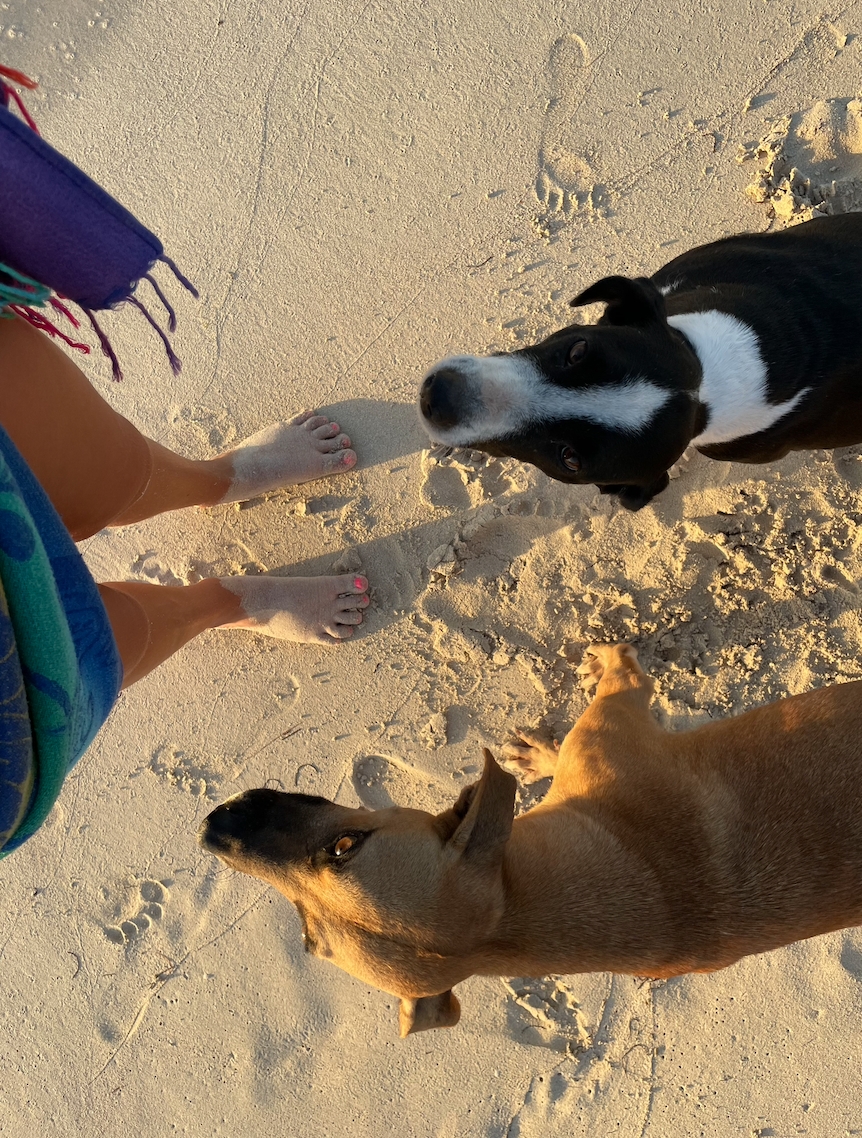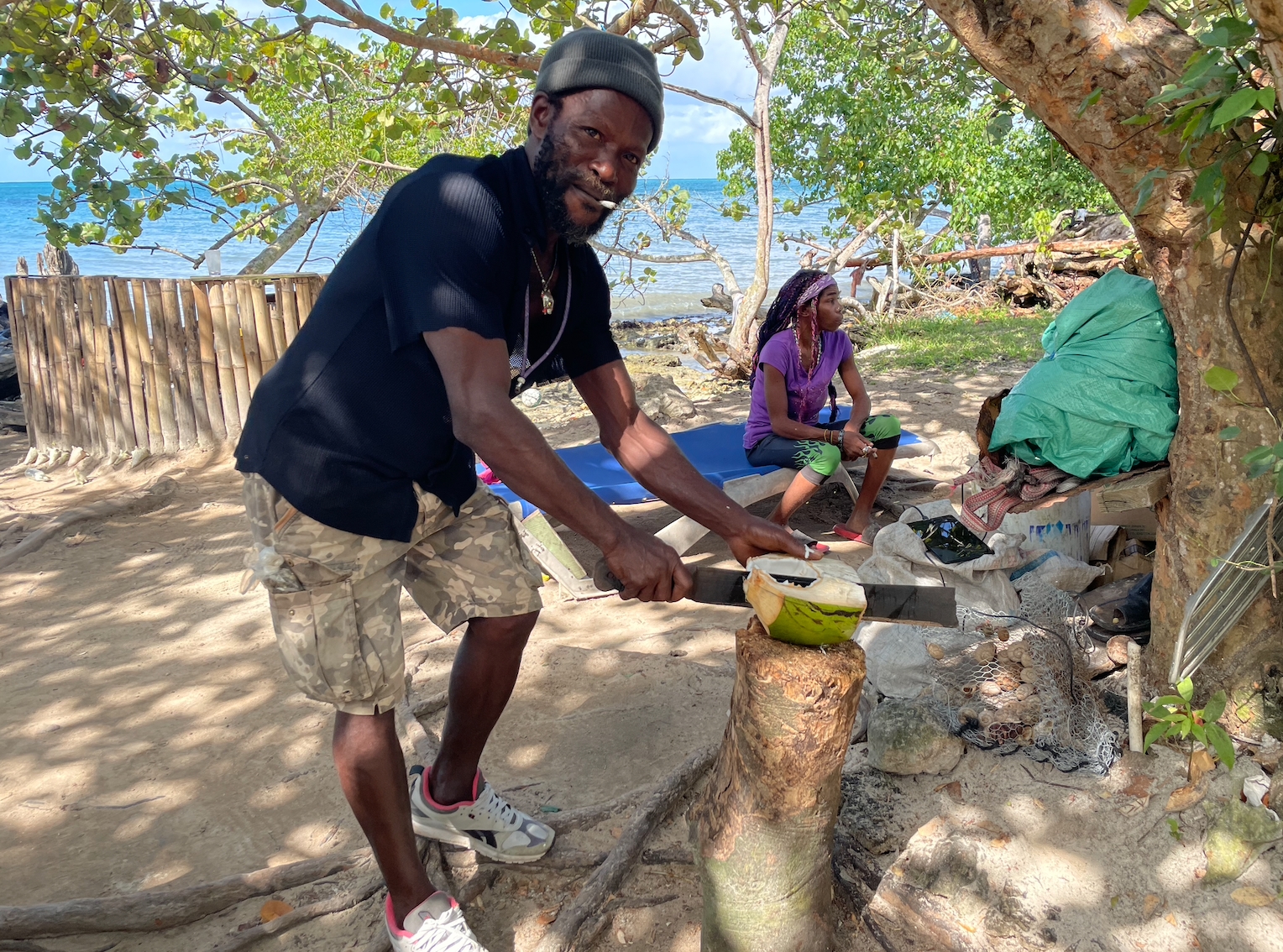 There are also parts of Seven Mile Beach unoccupied by a hotel or resort that are open to the public, so you can also freely post up there. Up on the eastern part of Negril bordering Hotel Riu is Bloody Bay. This is a cool part of the beach where you'll find a line of local food and drink shacks, ample coconut trees to relax under, and some amazing coral reefs to explore through snorkeling, scuba diving, and kayaking.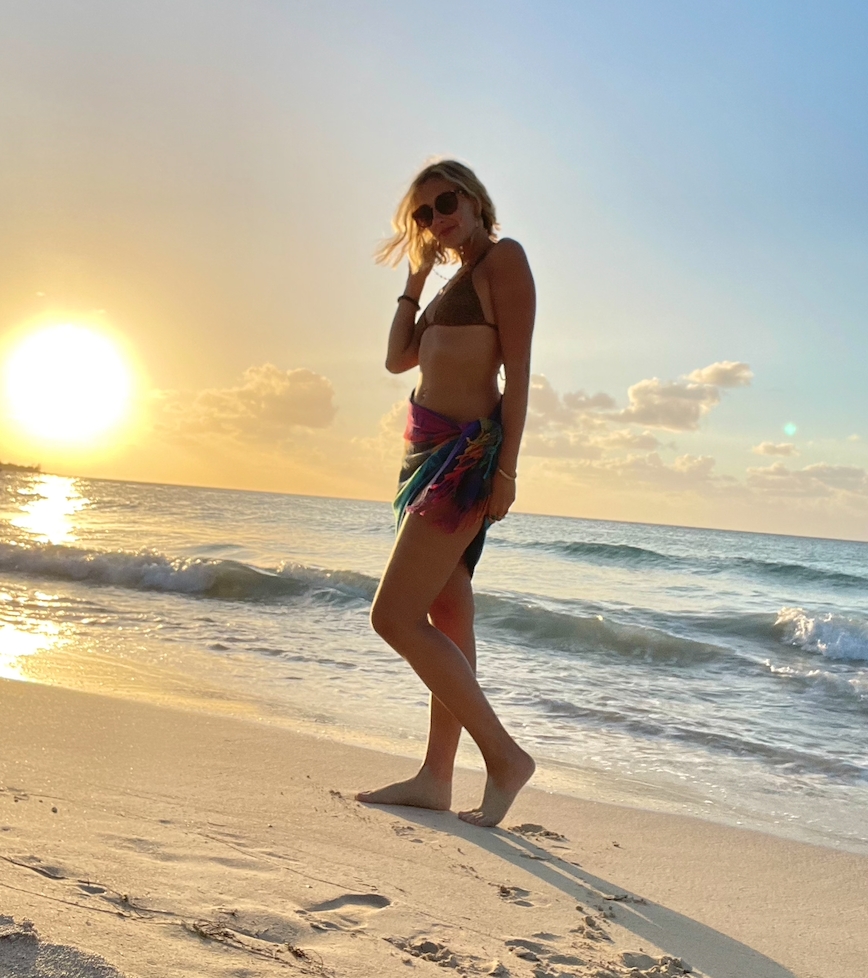 PART IV – Where To Play
When traveling to a new country, you better do some exploring! While island life can sometimes be a little limited or repetitive, I found that Negril offers a plethora of fun little adventures.
Barney's Flower & Hummingbird Garden
If you want a slice of heaven while in Jamaica, make sure to spend an hour or two at Barney's Flower & Hummingbird Garden. Located in the West End, I accidentally arrived an hour before they officially opened but the owner let me in any way. Beautifully colored and exotic butterflies and hummingbirds were all around and newborn puppies were playing around in the shade. I thought I had died and was summoned to Heaven. With a little stillness and patience, you can also feed the hummingbirds with mini sugar water bottles.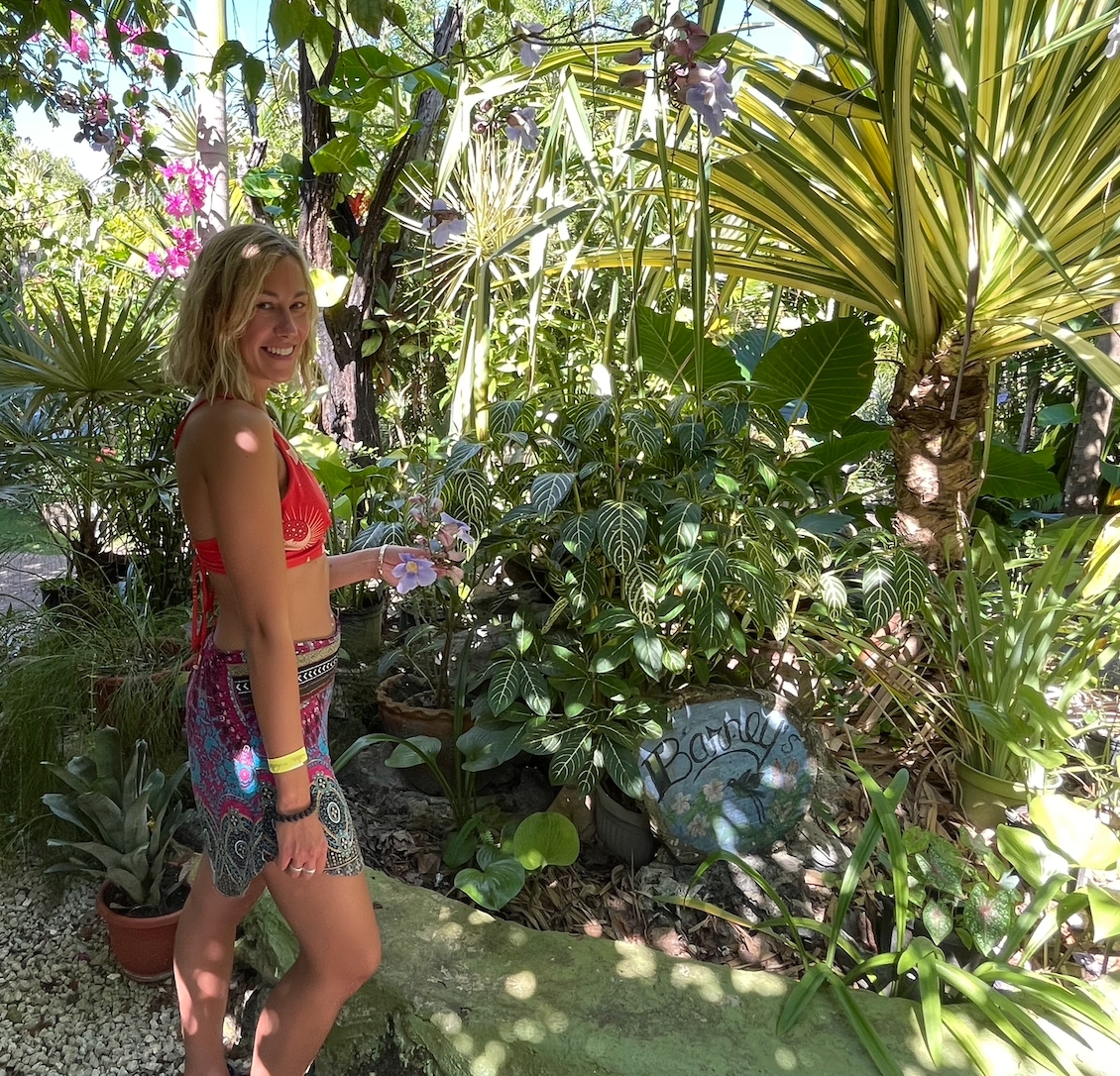 Ganja Farm
This is a no-brainer if you go to Jamaica. The country is known for its great cannabis. I was fortunate enough to get connected with a trusted local driver who took me into the hills for a private ganja farm tour and it was a mighty high experience. Needless to say though, there isn't really an "official" way to book such a trip. I was able to find a trusted driver who knew the owner and convinced him to show me – a complete stranger – a tour of his farm.
You just have to poke around a little bit to find the people who know these hidden spots and trust that it'll all work out.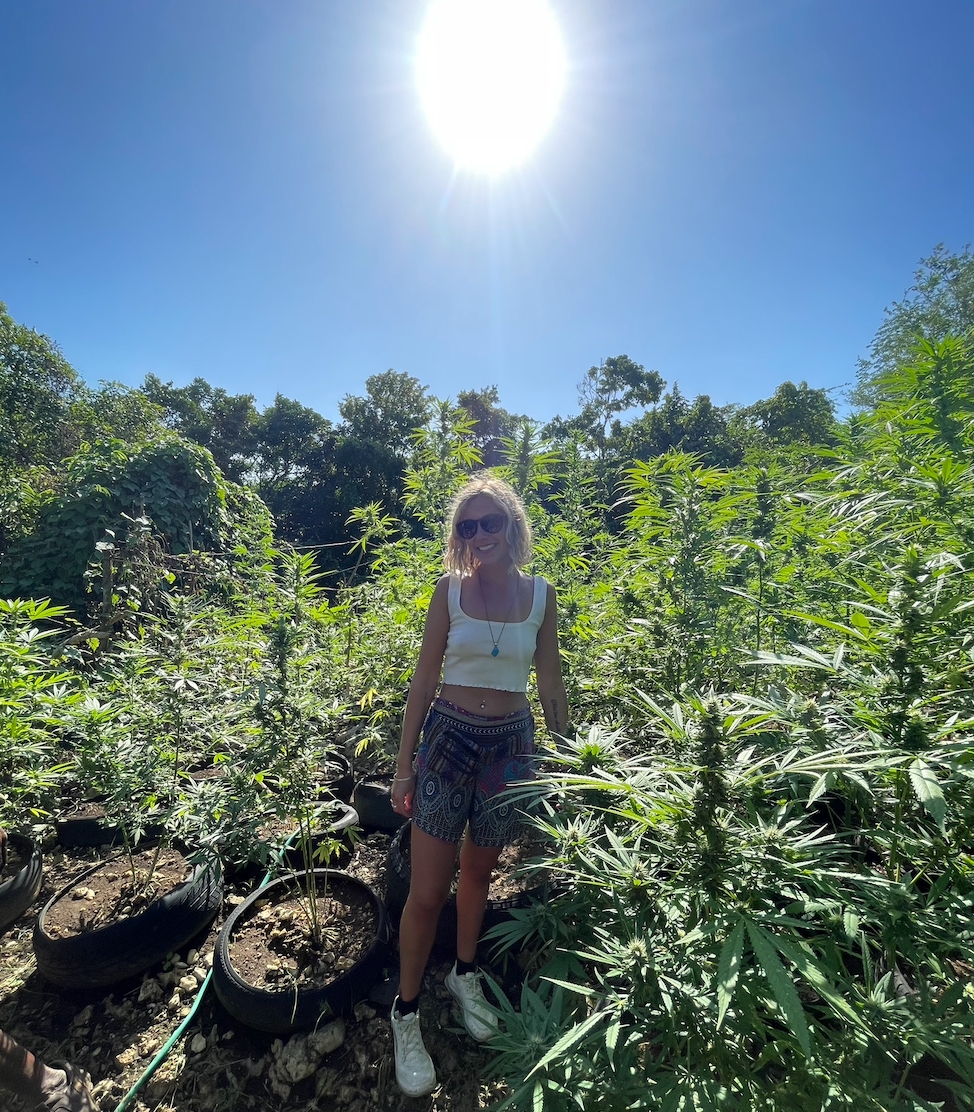 Sunset Cruise Tour
I hopped on the opportunity to sail on the water three days into my trip. The crystal clear, shimmering waters were calling my name, so I booked an all-day boat tour through the RIU Palace Resort, down the road from where I was staying. The boat was very crowded though, so I would recommend booking through another hotel or resort if you want a better experience or, better yet, seeking out a more limited excursion.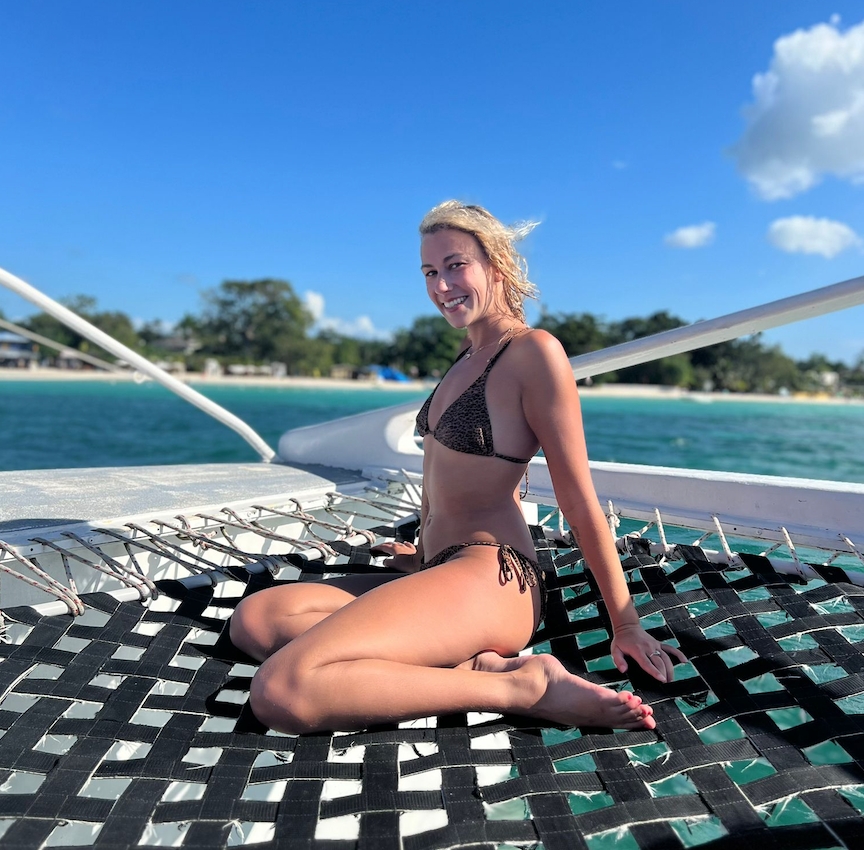 My day consisted of snorkeling, swimming through a rocky cove, and ending at Rick's Café for drinks and cliff jumping. I soon realized that Rick's Café is a must if you're visiting Negril for the first time and I had an absolute blast here. So much so that I told the boat guide to leave me at Rick's Café to fully enjoy and watch the sunset and I took a taxi back to my condo.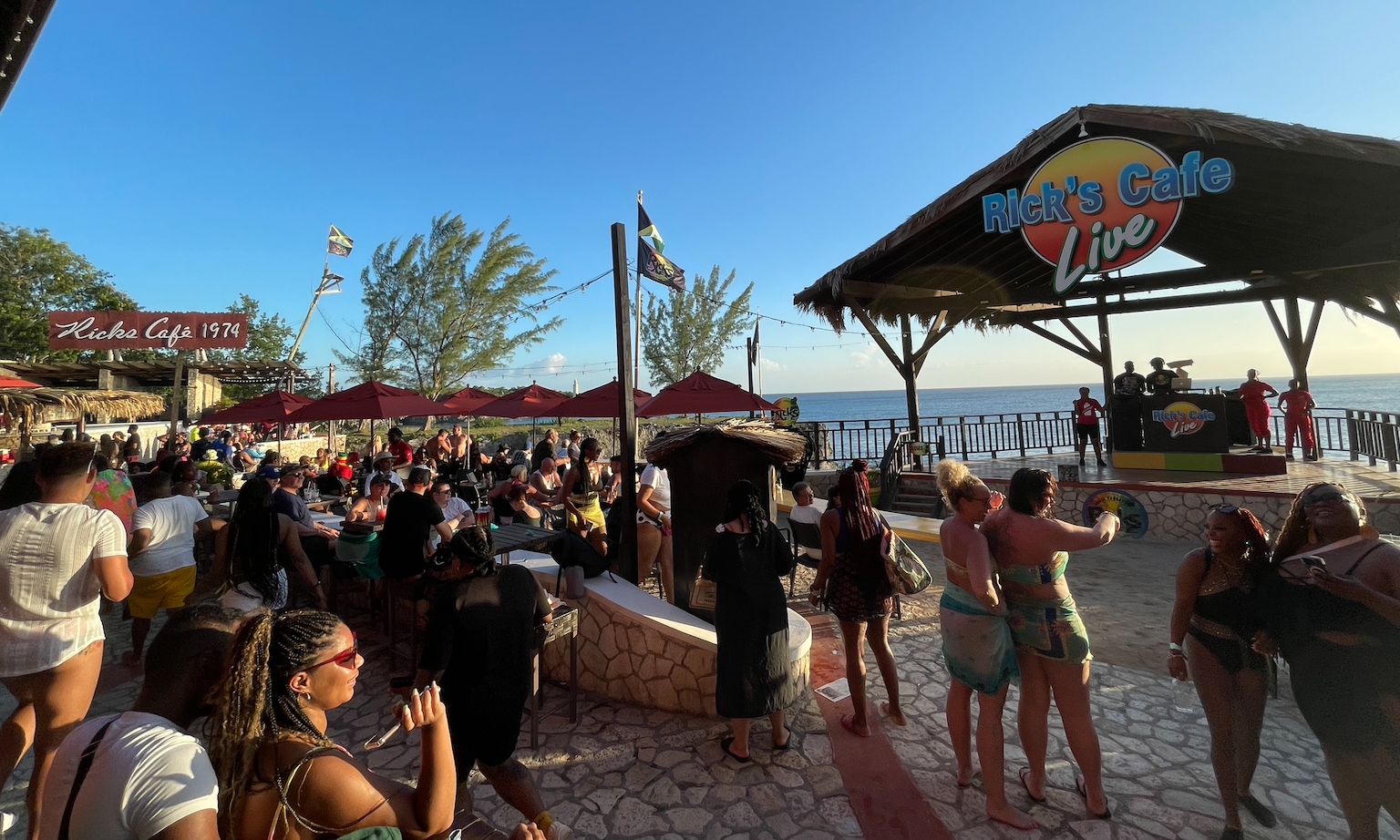 If you don't want an all-day experience, you can also walk up to any of the dozen Glass Bottom Boats on Seven Mile Beach and work out a deal to take you out. They'll often work with you for the amount of time and the number of people accompanying you, as well as any activities you want to do, including snorkeling or heading over to Booby Cay Island for some freshly grilled lobster.
Jackie's On The Reef
A perfect little piece of tranquility in the far West End of Negril. It was definitely a little bit of a trek to get here, but so worth it. The owner Jackie offers an array of eco-friendly wellness services, so I was blessed to have had a private yoga class and deep-tissue massage on the beach. The property is very quiet and offers a more meditative and serene, lush environment to be in your own energy.