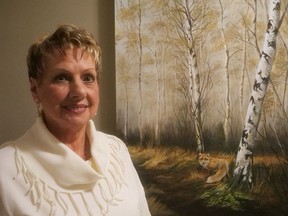 Article content
Wildlife artist Ann Loker enjoys giving back to her community.
Article content
"I paint for shows, I paint to compete, I paint to sell, but I always refrain from top quality paintings to donate for fundraising. It's a way to give back to society and the cause."
Roker is a regular contributor to the Avondale Country Jamboree in Tilsonburg. This jamboree is held monthly from September through June at the Avondale United Church at 60 Harvey Street.
Loker typically donates 3-4 paintings to the Jamboree each year. Her next donation will be in the raffle on February 18th.
"It's a way of giving back. And you can tell they're very excited to have won that painting. It's the greatest compliment.
She is also happy to give people the chance to take home and enjoy beautiful, rapidly disappearing wildlife paintings.
Article content
After early retirement, Loker moved to Tillsonburg about 11 years ago and now devotes himself to perfecting his wildlife art, which he sells locally, nationally and in countries such as the US, UK, France, Switzerland and Spain. It has been.
"We've traveled through Southern Ontario pretty well and been back here three times. I met the mayor[John Lessiff]and said, 'What makes Tilsonburg really fun for me? ' I asked."
Roker wanted to be active in the community, and Lessif suggested she volunteer on the board of the Oxford Child Aid Society, where she soon became vice-president. She moved to the Development Board in Tilsonburg and later applied to join the local Police Service Board, where she served for six years.
Article content
Over the years, Roker has been accepted at many juried art shows including Woodstock and Etobicoke, won several major awards, and has broadened his horizons to compete internationally.
"This year I have already participated in one international show and will continue to do so. It is strictly wildlife and I am against some of the biggest artists in the world. What I'm doing[online show based in Los Angeles]is people from all over Europe, but it's fun."
Loker remembers having taken some private art lessons before, but says her talent and ability come primarily from learning about the subject matter and studying painting methodologies.
Encouraged and inspired by her high school art teacher, she began working as a veterinarian at the African Lion Safari, which led to full-time employment at the park.
Article content
"The biggest comment I get on the show is the realism and the eyes… It's the emotion of the animals. It comes from safari because it picks up things that people can't see anywhere else."
She creates her own wildlife subjects and scenarios rather than "copying" them from photographs. Her studio walls are adorned with paintings of leopards, lions, tigers, elephants and horses.
"I have memories of photographs of wild animals and things I have painted. I can see them…and then go and create them. We want you to know that you won't find it anywhere else."
But her number one priority is making art that she loves.
"That's what gives emotion. If I'm not satisfied, I won't give in to anyone. There are people I've fallen in love with, so I'll just hang on to them for a while and show them."
Article content
Professionally, she became an executive in an international company, but continued to enjoy pastels and oil paintings, constantly learning and improving.
"One of the biggest changes from amateur to semi-pro to pro is…" Roker recalls advice from Robert Bateman, "Don't rush. What I've learned over the last 15 years is that when painting, on the go he only has two or he only has three. "
In the past, she would concentrate on one painting and complete it in a few days. Now she's working on different paintings, she's back in 3-4 days, the longest she's been in a week.
"There's a key there. You can't sit and paint until something's done. You have to go away, think about it. It's the feeling you get and it's inside you." I know that something has to creep up and change.I'm waiting for that feeling.It's something they can teach you, but you have to go through it."
Loker's art can be seen on her website (annlokerwildlifeart.ca) and at Oxford Creative Connections annual show.
cabbott@postmedia.com