Brian Dress – CFA, Research Director, Investment Advisor
It's another trading week in the books, but in many ways market events are starting to blur from week to week.The only constant looks choppy Market movement (volatility) and the feeling that it doesn't seem to work very well. Weakness is seen not only in stocks but also in government bonds. Stocks in growth sectors like technology and consumer goods still struggle, and investors find little solace in traditionally defensive sectors like consumer staples and healthcare.
Our CEO, Noland Langford, called this phenomenon the "whack-a-mole" market a few weeks ago. Investors seem to be looking for places to hide, and these efforts continue to fail. This feeling that most investors are experiencing is the main reason why we have been saying for months that we are in the middle of a bear market.
Of course, making money in the current market environment is very difficult. The world is seeing two sectors – energy and materials – benefit directly from inflation, only fueled by the brutal and destructive war being waged in Ukraine. Aside from the humanitarian tragedy, the war has made the job of global central bank policymakers even more difficult than before. Political, economic, and humanitarian conflicts make us feel like we're plagued by an ancient curse: "May we live in interesting times."
Volatility continues to rise in the context of all these current events, with the VIX index still holding the high 30 level. The market structure seems inadequate to handle everything and the market is becoming more and more chaotic. I will discuss this topic in more detail later in this week's letter.
We are fully aware that our tone has been broadly negative over the past few weeks and that you are uncomfortable with our stance. We are optimistic that the dynamism of the US economy will shake off the bad news and move forward in the long term, but we expect volatility in the short term. Investors are advised to be cautious while also being mindful of the fact that holding cash in such an inflationary environment carries significant risks.
With that in mind, we remain constructive about energy and materials. At the same time, we continue to look for other areas where lower prices are creating opportunities, including retail, healthcare, financials and some select technology stocks. One of the technology subsectors may be of interest.
At times like these, investors need to be creative and find ways to preserve and grow their capital. We mentioned this in 2022, but one of our favorite asset classes to store assets in is short-term high yield bonds. Many of these bonds have interest rates of 4-6% per annum and maturities of 2-3 years. Investors may have the capital to secure a decent yield in some company with a healthy balance sheet and reinvest at maturity when terms are more favorable.
With that all said, let's get into it!
Below is the performance data for the major indices and ETFs for the 5 days from 03/04/2022 to 03/10/2022.

what is working?
The "What's Working?" Basics and "What's Not Working?" newsletter segments are Jarvis' securities valuation system. Use the patterns you see in that data to determine where your pockets of strength and weakness lie.
For this section of the letter, the situation repeats itself, with Energy and Materials still leading the list of top performing ETFs. Several new ETFs in energy take the lead this week. SPDR S&P Oil & Gas Equipment & Services ETF (XES), SPDR S&P Oil & Gas Exploration & Production ETF (XOP), When Invesco S&P Small Cap Energy ETF (PSCE). PSCE strength has a lot to do with the fact that the small-cap Russell 2000 has outperformed the broader S&P 500 in recent weeks. Eight of the top 25 stocks were in the energy sector. This is still very important, but lower numbers than we've seen in recent weeks.
Metals continue to stand out, many of which have limited supplies due to increased sanctions regimes against the Russian Federation. The metals-related ETFs that were strong in this week's data were: SPDR S&P Metal Mining ETF (XME) When Aberdeen Standard Physical Palladium Shares ETF (PALL), The latter are mainly produced in Russia. 2 weeks in a row Van Eck Vector's Steel ETF (SLX) was also strong.
Let's take a closer look at some new leaders from the list. Traditionally (at least during the last notable oil price spike in 2008), alternative energy stocks have done well when energy prices were rising. Not much of that so far in 2022. We are starting to see that change. Invesco Solar ETF (TAN) When iShares Global Clean Energy ETF (ICLN). We have seen remarkable strength from many leaders in the solar business. SunPower Corporation (SPWR), First Solar (FSLR), When Enphase Energy, Inc. (ENPH). Over the next few weeks, we will be watching to see if rising fossil fuel energy prices continue to permeate the alternative energy sector.
We said we are looking at a sub-sector of technology that is starting to work: cybersecurity. Spending on cybersecurity has already accelerated in the context of Covid, and the need is even greater given that cyberattacks are part of modern hybrid warfare.This week we saw a very positive earnings report CrowdStrike Holdings (CRWD) The company's shares rose more than 14% in Thursday trading. This could be the first technology subsector to find bids, given the apparent need for corporate cybersecurity spending.
What's not working?
Emerging markets were one of the worst performing securities of any market this week. His Russia-focused ETF is at the bottom of his ETF list because the Russian stock exchange is still closed.
Earlier in 2022, he said, after a very rough year in 2021, we started to see a rally in Chinese stocks. iShares China Large Cap ETF (FXI). Especially hard hit were major Chinese internet stocks over the past week. JD.com, Inc. (JD) When Alibaba Group Holding Limited (BABA)Chinese tech stocks had their worst week in a year as the SEC suggested it could delist Chinese ADRs on U.S. exchanges if it fails to comply with accounting rules. We also found weaknesses. iShares MSCI China ETF (MCHI) When EMQQ Emerging Markets Internet & E-Commerce ETF (EMQQ).
Given that the Nasdaq Composite fell 3%, this shouldn't be too shocking.Some of the weakest ETFs on our list were plagued ARK Innovation ETF (ARKK), Renaissance IPO ETF (IPO), Invesco NASDAQ Internet ETF (PNQI), When Grayscale Ethereum Trust (OTCQX:ETHE). For us, it will be difficult to see the bottom of the overall market until these risky assets stop free falling.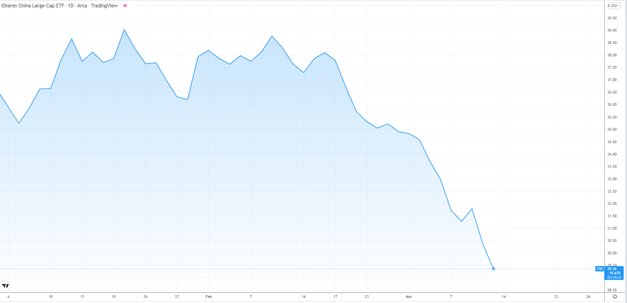 Liquidity vacuum?things don't look right
What has haunted us about the market in recent weeks is the chaotic nature of things. There are many contributing factors to this, and an entire book could be written to explain this phenomenon. This means that when there is a sale of stocks and commodities, there are few buyers of last resort to forestall a sale. Additionally, the Federal Reserve has been aggressively curtailing its bond-buying program, removing another important source of market liquidity. Why is all this important? This is important as markets around the world are beginning to see violent movements that will erode investor confidence over time.
Over the past month, we have seen many high-profile examples of liquidity events. Such a dizzying event occurred this week in the London nickel commodity market. Liquidity pressure on one of his market participants has pushed him from about $25,000 a tonne of nickel to about $100,000 a tonne in just a few days, with the commodity halted on Tuesday and the market slowing down. I no longer have a clear outlook on when it will move. Open it again.
This week saw a similarly breathtaking move in the US. This happened in the crude oil futures market (West Texas Intermediate). In the chart below, we show his 1-minute chart for crude oil from Wednesday's session. The whole move is not even visible on the minute chart, but oil has fallen by $14 a barrel in just 15 minutes. As a risk of completely stating the obvious, this is not a move we would expect to see in a normal healthy market!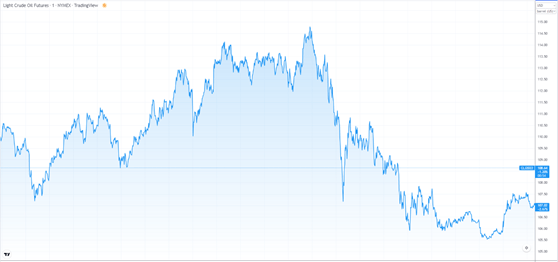 We've also seen some pretty dramatic moves in the stock market lately. One such example is the 50% increase in the stock price of a dating and social media platform company. Bumble Inc. (BMBL) After the earnings report on Tuesday. Such moves suggest that there is minimal liquidity available when investors need to buy and sell everything at the same time. Note that this dynamic will improve and the market as a whole will behave more predictably.
The energy and materials sectors continue to dominate the market, with most sectors still negative this year. We are looking for creative ways to preserve capital in this environment. One of them is short-term high yield bonds. Receive a watchlist of these bonds using the offer above.
Choppy behavior was the rule in 2022, not the exception. Liquidity voids are starting to form in many markets around the world, adding to the sense that markets are not functioning right now. This dynamic must abate if the market is to stop its decline.