Pinterest (NYSE:PINS) is a social media platform that allows its users to collect and organize photographs, videos, and other content in the form of 'Pins'. It has become one of the most popular social advertising platforms in the US thanks to its high conversion rates relative to other social platforms. It also has a massive runway for growth. In this report, we review the business, growth drivers, financials and conclude with our opinion on investing.
Overview:
For your convenience, we've summarized our views of the business and the investment opportunity in the following video. Following the video, is our detailed analysis of the same.
(video source: Left Brain)
As mentioned, Pinterest allows users to collect and organize photographs, videos, and other content. It was cofounded by Ben Silbermann, Paul Sciarra, and Evan Sharp, and it launched its first beta application in 2010. After commencing revenue generation in 2013, the company scaled rapidly and finally went public in 2019. Pinterest has now grown to become one of the most popular social commerce platforms in the US with over 42% of the online audience in the country using its application. It has also emerged as an attractive advertising platform for marketers because of higher conversion rates observed as compared to other social media networks such as Facebook (FB) or Twitter (TWTR).
Pinterest is like an online scrapbook or a catalog where people can collect and post content related to their interests by pinning them to online 'boards' which can be further shared with other users by 'repining'. 'Pins' are the primary source of content creation on Pinterest's platform. Businesses also create pins to promote their product offerings, connect to their customers as well as to gain market reach. 'Boards' help to group user pins into a collection based on specific topics. All pins must be saved on to a topic specific board which makes it easier for users to find and discover content. For example, a fashion designer will pin design ideas and inspirations on the board named "Fashion designer ideas" to make it more discoverable.
For individual users, apart from the ability to collect, organize, and share content online with others, Pinterest also acts as a search engine or discovery tool for areas of interest and ideas. It acts as a source of information for planning purchases or comparing products. For instance, people can share or search for ideas for events such as birthday parties, vacations, gym routines, or food recipes, to name a few. They can also search for specific products such as shoes or jewelry designs and view catalogs uploaded by other users.
For marketers, since users have already indicated their areas of interest through pinboards, Pinterest provides more targeted advertisements at a granular level thereby resulting in a better click-through rate and conversions.
Pinterest has only one source of revenue which it derives from selling advertisement inventory to businesses and marketers. Advertisers can buy 'promoted pins' which are prominently placed on audience feeds to increase brand awareness and customer engagement. As of Q3 2020, Pinterest had 442M monthly active users (MAUs), out of which 343M or 78% were based internationally.
Digital advertising, a multi-year secular growth story
The digital advertising industry has experienced strong structural growth for the last few years and is expected to continue its upward trajectory in 2021 after near-term headwinds faced in 2020 because of the coronavirus pandemic. As per a recent eMarketer report, global digital ad spend will achieve growth of 2.4% in 2020, its lowest on record, however, growth is expected to bounce back to 17% in 2021. In the US, the social network ad spending growth rate is expected to have declined to 11.4% in 2020 but will sharply rebound to 21.3% in 2021. While Google (GOOGL), Amazon (AMZN), and Facebook (FB) continue to enjoy the lion's share of digital advertising spend, we believe the growing popularity of Pinterest amongst both individual users as well as advertisers will help it expand its share of the pie in this growing market.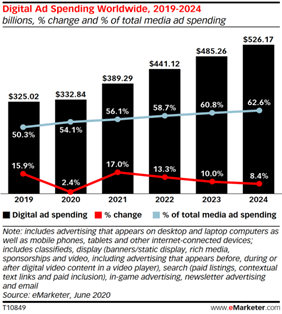 Source: eMarketer.com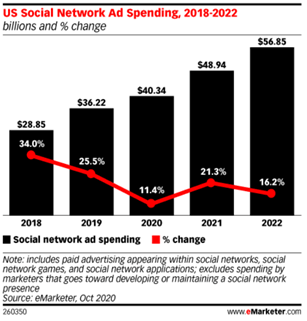 Women, with above average household income, make up the majority of Pinterest's consumer base, making the platform particularly attractive
Pinterest's platform has been particularly appealing to women who use it to generate shopping ideas and design inspirations. In fact, 70% of the platform's users are women and this group includes 8 out of 10 moms in the US as per surveys, which is significant because women are the primary decision-makers of a household. Additionally, as per a 2019 Pew Research Center report, more than 41% of the US adults who earn over $75K use Pinterest, whereas only 18% of US adults with less than $30K income are on the platform. This shows that people who use Pinterest are typically higher earners and are more likely to make purchases on the internet thereby leading to higher referral traffic and conversion rates for advertisers. As per a company's survey, Pinterest drives 33% and 71% more referral traffic to shopping sites than Facebook and Snapchat (SNAP), respectively.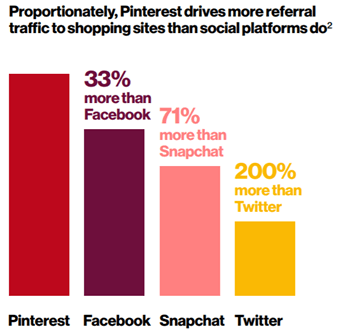 Source: Pinterest
Pinterest is investing in its platform to improve the value proposition and monetization potential
Pinterest has been consistently investing in R&D to further improve its platform from an advertiser's standpoint and also make it more e-commerce friendly.
Auto-bids: In July, Pinterest launched an automated bidding tool on its platform to help marketers achieve better return on their advertising dollars. Auto Bids are managed by Pinterest and aim to get the advertisers the most number of clicks at the lowest possible cost per click while spending as per the budget limits set by advertisers. Earlier, advertisers had to manually set their bids for ad space and then constantly update and manage their bids throughout the day. Since its launch, automated biddings have been an important factor leading to strong top-line growth in Q3 2020. For example, according to CEO Ben Silbermann during the Q3 2020 earnings call.
"We started chipping away at this over the course of the last couple quarters with our investments in auto bid. It started with traffic objectives, several months ago, and over around 80% of our CPC, or traffic objectives are now running through automatic — auto bid. We launched auto bid for conversion optimization in July. And we're now at 50 plus percent of revenue through auto bid on that format."
E-commerce: Pinterest has also entered into a partnership with Shopify (SHOP) which will allow over 1 million Shopify merchants to directly upload their product catalogs and Pins to Pinterest. The Pinterest platform is integrated with Shopify's user interface and therefore, merchants are not required to establish a new connection between their individual store account and a Pinterest business account making it a seamless experience for even small and medium-size businesses who generally lack IT expertise. While the service is free, merchants are required to purchase advertisement pins if they want to market their product offerings, making it a win-win opportunity for both the sides. According to Satish Kanwar, VP of Product, Shopify:
"Partnering with Pinterest to create the Pinterest channel is adding another powerful marketing tool for merchants to share their products with a new audience. The channel allows merchants to easily turn their Shopify products into shoppable Pins for Pinterest's over 350 million users to discover, allowing Pinterest users to purchase the item directly from the merchant's store. The channel also makes it even easier for merchants to advertise to and acquire new customers, which is a huge win for businesses."
Catalogs and self-serve shopping ad campaigns: Last year Pinterest introduced a Catalogs feature on its platform. This allows marketers to upload and categorically organize several product images to create a full and attractive product catalog on the Pinterest platform. These catalogs can easily be updated and can also be used to generate product pins in bulk for the entire category rather than one product at a time. Along with Catalogs, Pinterest also launched Ads Manager which allows marketers to manage their advertisement campaigns through a self-serve platform.
Stories: More recently, Pinterest has also launched 'Story Pins' to allow creators to upload more visually engaging content on the platform. Further, the company is making investments to improve the video advertising experience for marketers as video content on the platform is growing. The number of videos uploaded on Pinterest has grown 7x YoY and the number of views of organic video pins is up by 240% on a YoY basis primarily driven by food and beverage, beauty, DIY, entertainment, and home décor segments. As Pinterest continues to upgrade its platform with innovative pinning ideas, it will bring greater value to advertisers, thereby attracting larger marketing investments in the longer term. A 2019 study conducted by Neustar with retail clients found that Pinterest generates 2x higher return on ad spend as compared to social media on average and a 1.3x higher return than from traditional search.
Operating in a competitive industry, however, Pinterest has a differentiated and powerful value proposition
Pinterest operates in a crowded social media industry where it competes with several large social media platforms including Facebook, Instagram, Google, Snapchat, and Twitter, etc. However, the company has a differentiated platform as it focuses more on users that want to collect ideas and search for products covering a wide range of interests. Pinterest's niche focus around content focused on products and activities of interest as opposed to broader, all-encompassing sharing of content between users facilitated by larger social media players such as Facebook is a strong competitive advantage in our mind as it keeps the company focused on what it does best.
As per a study, 66% of the Pinterest users are inspired to buy something after checking out Pins and 90% of the users have claimed that Pinterest helps them make purchasing decisions. This has resulted in higher traffic referrals to advertisers and better conversion rates. Higher user inclination towards finding items of interest on Pinterest is also evidenced by research conducted at eMarketer in 2019. With 47% interest, finding/shopping for products was the 2nd most popular activity on Pinterest, just behind viewing photos which had 59% user interest. As can be seen in the chart below, while users of Facebook, Instagram, and Snapchat showed more interest in activities such as viewing photos, watching videos, and sharing content with everyone, they are significantly less interested in doing product research on those platforms when compared to users on Pinterest.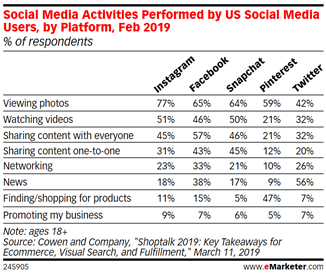 Source: eMarketer.com
Growing popularity translating into industry-leading user growth
Growing popularity of Pinterest's social media platform amongst individuals as a result of attractive content, as well as marketers because of higher conversion rates and superior return on investments have catapulted Pinterest to become the fastest growing major social media company globally. In Q3 2020, company's monthly active users stood at 442M which represents an increase of 37% and the growth is significantly above its peers. As represented in the chart below, Pinterest has consistently been able to outgrow competition due to initiatives taken by the company to expand in international markets as well as product enhancements.

Note: (1) Daily active users growth considered for Snapchat and Monthly active users growth for others.
(2) Domestic geography comprises of US for Pinterest, US & Canada for Facebook, and North America for Snapchat.
Source: Company's SEC filings
Significant potential to grow ARPU over the next few years
While Pinterest outperformed its peers in user growth for both US as well as international markets, the company lags when it comes to Average Revenue Per User (ARPU), especially internationally. This is because Pinterest's primary focus until now has been on user penetration and user engagement internationally. It has only recently started monetizing its user base in most of its international geographies. In Q3 2020, the company reported international ARPU of $0.21, whereas US ARPU stood at $3.85 which is more than 18 times that of international markets. As shown in the chart below, while the difference between US and International ARPU is significant for all social media companies, it is substantially wider in the case of Pinterest due to the nascent monetization efforts internationally.

Pinterest has immense potential to grow its top line when it starts monetization of its under-penetrated regions. It has only recently started monetizing its user base in Europe and is next targeting Latin American region in the coming quarters. The initiatives taken so far have led to very encouraging results for the company. While its US ARPU growth in recent quarter was below Snapchat, it significantly outperformed its peers in International markets where most of its users are located.
"As we move forward, we're hoping to begin monetizing in the next region, Latin America in the first half of next year. And I think there's a lot more that we can be doing across our existing monetized markets outside of the U.S. and into new regions as the next few years unfold." – Todd Morgenfeld, CFO in Q3 2020 earnings call.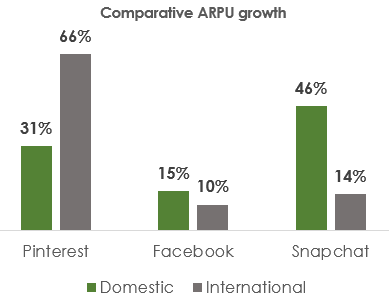 Notes: (1) ARPU calculation uses daily active users for Snapchat and Monthly active users for others.
(2) Domestic geography comprises of US for Pinterest, US & Canada for Facebook, and North America for Snapchat.
Source: Company's SEC filings
Platform superiority and business initiatives translating into strong growth momentum
The platform has observed a significant increase in the number of users as well as higher user engagement over the last few quarters. The company's product initiatives coupled with people staying at home because of the pandemic and consuming more digital content have benefited the platform. Additionally, Pinterest has been a beneficiary of advertiser's boycott of a few other social media platforms which however is expected to taper off now as the election has ended.
The company reported revenue of $443M in Q3 2020 which represents a YoY growth rate of 58%. Strong growth was observed across all regions. While US business was up by 49% YoY, International operations continued to outgrow the US by achieving a YoY growth of 145%. International markets now contribute 16% of the overall top-line of Pinterest as compared to just 10% last year. As discussed earlier, the overall strong revenue growth was a function of higher Monthly Active Users (MAUs) on its platform which increased by 37% YoY to reach 442M in Q3 2020, along with a 15% expansion in Average Revenue per User (ARPU) which reached $1.03 as compared to $0.90 in Q3 2019. The company has given an outlook that the strong momentum experienced in Q3 will continue into Q4 which is historically its most important quarter. It anticipates Q4 revenue has grow by 60% on a YoY basis.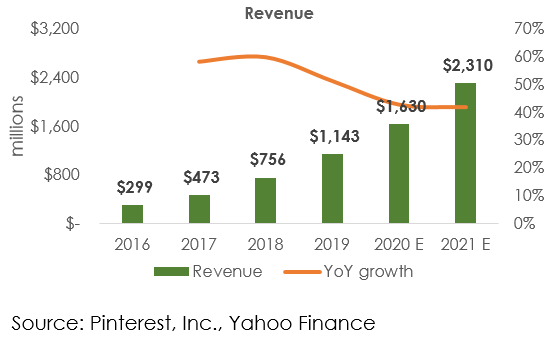 On the profitability front, while Pinterest generates high gross profit margins, it has not been able to reach its full profit potential on the operating level because of high R&D and marketing expenditure as it continues to upgrade its platform and increase its market penetration in target geographies. The company reached adjusted EBITDA profitability in 2019. In Q3 2020, Pinterest reported adj. EBITDA of $93M which is a significant improvement from just $4M in Q3 2019. Adjusted EBITDA margins also considerably improved from 1% in Q3 2019 to 21% in Q3 2020. Strong growth in top-line led by improved monetization of international business was the primary reason for this expansion in margins. Pinterest's profitability will improve over the longer term as it enjoys operating leverage on a growing top line.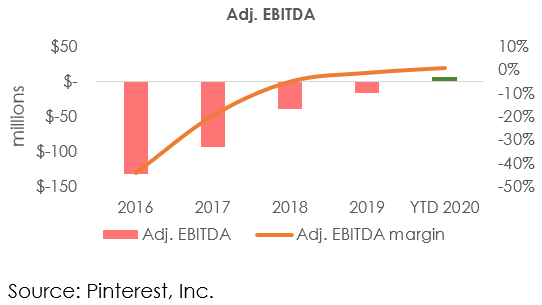 Strong financial position with enough liquidity cushion
Pinterest ended Q3 with liquidity of $1.65B in the form of cash and marketable securities. This includes the $1.4B raised by the company through its IPO in early 2019. Additionally, it has an undrawn revolving credit facility of $500M which can be used in case of any funding needs, thereby bringing the total available liquidity to over $2B. Given the company does not carry any debt on its balance sheet, we believe these funds would be sufficient to meet its working capital and capex needs in the near to medium term.
Current valuation needs to be looked at in the context of large growth potential
The stock is trading at a price to sales ratio of over 31x which is higher than its historical average as well as its larger peers mainly due to top-line growth outperformance as well as stronger appetite among investors for COVID-19 resilient companies. While the current valuation is at a premium, we believe the high valuation is justified because of Pinterest's attractive platform and immense long-term growth potential.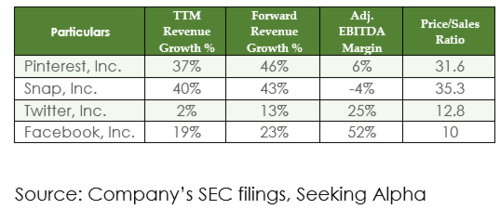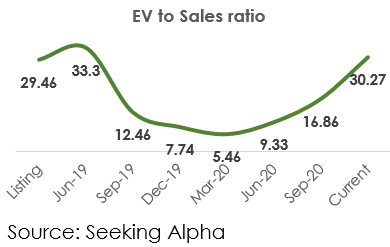 Valuation Risk
Failure to act on growth opportunities: If the company fails to close the gap between US and International markets ARPU and sees a slowdown in monetization efforts overall, the company's valuation may compress. Having said that, we believe the company's solid platform along with a strong management team positions it well from an execution standpoint.
Additional Background Information
For additional information on our views on Pinterest, be sure to check out our previous First Focus report PDF below.