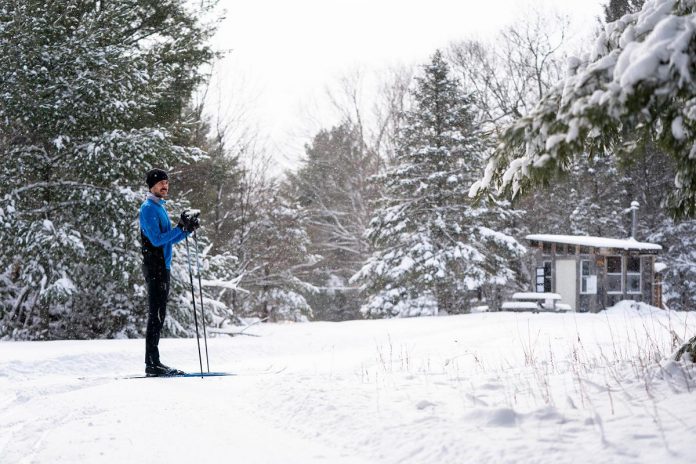 For the second year in a row, a group of Peterborough-area cross-country skiers will hit the trails to raise money for mental health.
Hosted by Wild Rock Outfitters and Kawartha Nordic Ski Club, the 8-Hour Ski Relay for Mental Health will be held on Sunday, January 22 at Kawartha just off Hwy 28 just north of Hallten in North Kawartha Township. It will be held at the Nordic Ski Club and will host the opening ceremony.10am, skiing until 6pm
The event will raise funds for the Canadian Mental Health Association's Halliburton, Kawartha, Pine Ridge (CMHA HKRP) garden home project. Through the association's Supportive Housing Program, the new project aims to provide affordable small homes for vulnerable people in the Peterborough area who are at risk of homelessness.
Advertising – story continues below
Tweet this quote
"Many of our communities have struggled to access affordable housing," he said. CMHA HKRP CEO Mark Graham at a media release. "Through the support of this fundraiser, we hope to develop creative solutions to a very complex problem in the region. , this initiative is needed more than ever."
Skiers of all ages and abilities are encouraged to attend this fun recreational event. You don't have to ski the whole eight hours. To register as an individual or team, or to donate, visit canadahelps.org.
Three loop options that intersect with the rustic and warm cabins of the Kawartha Nordic Ski Club allow skiers to take a break during the relay. Peterborough's Ash Burnham Ale His House serves chili to all registered skiers (you'll need to bring your own mug and spoon from home to receive your serving).
Tweet this quote
The event aims to raise $15,000 in funding. CMHA HKRP The Garden Homes Project is organized by John Hauser, Wild Rock staff member and Kawartha Nordic board member.
"Working in downtown Peterborough, I've seen the struggles of people experiencing homelessness walking from their homes in the East City on their way to work," says Hauser. "The Garden Homes Project will be a step forward in addressing the housing crisis in the region. Relays seem like a great way to bring communities together to raise funds for this much needed cause. I thought."
Hauser also organized a 24-hour ski marathon for mental health last February after losing a cousin to suicide during the pandemic and feeling the pandemic's toll on his own mental health.
Follow @knsc_8_hour_relay on Instagram for updates on the Mental Health 8 Hour Ski Relay. For more information on relays, please email Hauser at johnh@wildrock.net.