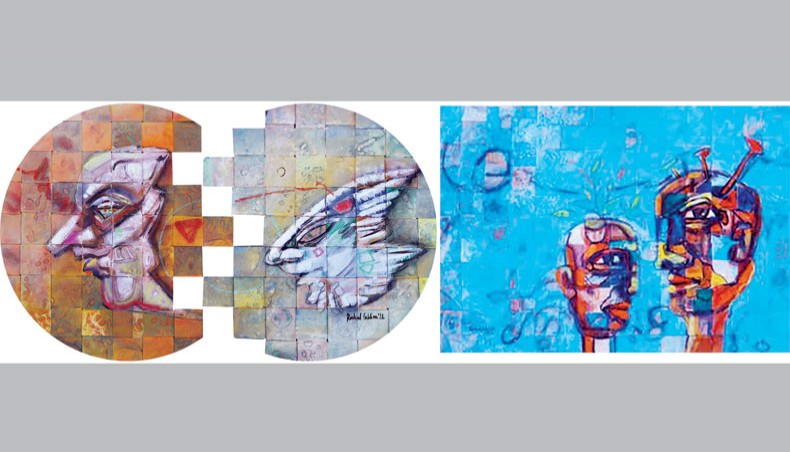 Artwork by Rashed Sukhon.
Artist Rashed Sukhon has expressed a range of emotions by capturing people's facial expressions in paintings displayed in a solo exhibition at the EMK Center in the capital city of Dhanmondi.
The month-long exhibition, entitled Care for Eternity, features 50 mixed-media paintings depicting multiple emotions such as joy, sorrow, anguish, and regret.
The exhibition was inaugurated by renowned artist Biren Shome, and artist, poet and art critic Zahid Mustafa was a guest at the opening ceremony of the exhibition on December 17, 2022.
Rashed Sukhon, a professor at the Faculty of Fine Arts at Jatiya Kabi Kazi Nazrul Islamic University, uses different shapes, consisting of rectangles, squares and circles, to depict people's facial expressions.
The work contains a background of blue and old green, with human faces painted in achromatic colors.
The artwork titled Inner Reality – 09 shows two faces of the same person in two circles.
The work entitled "Just Like Today – 30" depicts two human faces facing each other.
The piece titled Photo of the Day – 33 shows a face made up of pixels representing different emotions.
"Bangladesh is a densely populated country. We meet a lot of people when we go out. By observing their facial expressions, we can infer their emotions." Mr. Rashed Sukhon, who holds BA, MFA and BFA degrees, said: Participated in more than 80 exhibitions nationally and internationally.
The artist also exhibited the installation at the 19th Asian Art Biennale in Dhaka.
Eternal Consideration ends on January 14th.