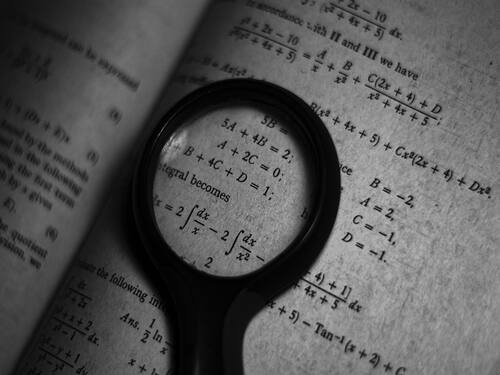 Mathematics should not be seen as a tool to solve anything, but as an experience in itself, says Olympic winner
The student sits ready to be presented with an exam paper. They are on a math exam. When the exam papers arrive, those numbers start looking unfamiliar and scary. Their brains go blank and they are too frightened to move their pens. Numbers can be a source of fear. Math anxiety is more common than you might think. People with this anxiety may experience fear when looking at or interacting with numbers. They find it difficult to perform calculations in their heads.
People with mathematics phobias and anxiety disorders may experience physical anxiety when looking at numbers. Symptoms may include muscle tightness, increased heart rate, and excessive sweating. They may also suffer from psychological discomfort, resulting in a lack of confidence and avoiding situations that may involve numbers.
Many studies have found that mathematics anxiety is associated with past bad classroom experiences, social stereotypes about mathematics ability, and dyscalculia, which makes it difficult to understand numbers and perform mathematical operations such as addition and subtraction. attributed to learning disabilities.
Neelakantha Bhanu Prakash is known as the fastest human computer in the world. He has won four world records and his 50 Limca records for solving complex mathematical problems with blazing speed. At the age of 17, Bhanu broke the world record of math legend Shakuntala Devi and Mind He is the first Indian to win a gold medal at the Mental Arithmetic World Championships 2020 held at the Sports Olympiad (London). Known for his extraordinary mathematical ability and a keen educator, Bhanu health site To discuss the brooding concept of math anxiety.
Mathematics lacks context in the classroom
Bhanu described mathematics phobia as the fear of interacting with numbers. He said that math anxiety is more common than people say.
"The three main reasons numbers make children anxious are their lack of context in the classroom, inflexible curriculum standards, faulty teaching styles, and lack of empathy for learners."
By context, Bhanu referred to the question of why children should try to understand mathematical concepts. Lessons may be missing in establishing the journey and trajectory of numbers and how they revolutionized humanity. Children may see them as having practical value and as necessary only for academic progress.
Outcome-related learning is the wrong approach
Bhanu explained that when assessing his math performance, he focuses too much on results, such as solutions to specific problems.
he said: "The absoluteness of the rating system is the real culprit. Unlike language, mathematics sees things in black and white. It is either right or wrong. This inflexible, result-related approach is all , which can create fear in children."
He compared the learning of mathematics in school to a dictionary containing words that you might be asked to memorize.
he said:
Bhanu said orthodox teaching is a major obstacle when it comes to understanding mathematical concepts.
language vs mathematics
Bhanu jokingly said that frowning mathematicians contribute greatly to this anxiety. He gave the example of a child who might have written an essay riddled with grammatical errors when he could still pass a test.
he said: Small obstacles that may not block communication in the big picture. Thoughts were not articulated but developed nonetheless. In mathematics, great minds leave room for flexibility. You are either right or wrong. Therefore, as much as mathematics is, language must be humanized. "
Human calculators suggested that, much like language, educational systems should be aware and aware of the thought processes behind problem solving and evaluate them accordingly. Subject must be humanized.
He said: "Mathematics should not be seen as a tool for solving something, but as an experience in itself."
why should i care
Bhanu said the best way to deal with math anxiety is to instill "why" instead of "what and how." He explained that many children do not understand the "why" of mathematics. According to him, most people understand that learning a language is essential for communication. Mathematics focuses too much on the utilitarian aspects of mathematics, such as standard numbers for achieving academic progress.
He said: "To know if you like or dislike something, you have to know it. Mathematics has been confined to many facts and subjects in schools. Most children Not being shown the beauty of numbers Not many kids understand the beauty of numbers Beautifully numbers quantify the world and how it helps us make money They may not realize that our simple, everyday activities, such as making a phone call or Netflix suggesting a particular show, are all governed by numbers.
creativity and logic
While talking about the cognitive segmentation that has been created between artistic and logical people, Bhanu said the two may not be very different. He explained how mathematical concepts are the product of creative minds. Giving the example of Leonardo da Vinci, he said that the great artist was one of the few who established some important mathematical principles. He also said that what he does is neither natural nor factual, but abstract like a painting or a poem.
he said:
I created a calculator for a reason
Responding to the example of children and adults who may feel uneasy about calculating money exchange at a showroom counter, Bhanu said that mathematical operations are not a race against time.
He said: "I've won a few titles, but I believe it doesn't really matter how fast you are in numbers. Down. We can all learn, but , a walk is enough to perform our tasks. Or let's say we know that we can walk from Bangalore to Hyderabad.Here to replace calculators and computers."
Total Wellness is just a click away.
Please follow us