Etobicoke's Steve McNeil, a 30-year hockey umpire and mailman, ran his 35th skating marathon for Alzheimer's on Saturday. He's calling on Toronto citizens and Canadians to "shake up Alzheimer's" by joining his party to skate.
McNeil, 61, hit the ice at 12:01 am on 14 January at Springer Market Square in Kingston in 19 hours and 26 seconds. His favorite band, his AC/DC, would 'crack' in his ear. Watch his McNeil skate live on his webcam.
In honor of his late mother, Eunice, born in 1926, who battled Alzheimer's for nearly 15 years, and all Canadian families with Alzheimer's and dementia, McNeil will raise much-needed funds for Alzheimer's communities across the country. I skate to collect
"This year it's really become a national event," McNeil said, estimating that more than $200,000 has been raised. "That's what I hoped and prayed for. I want to start a conversation, 'Where are you skating for Alzheimer's National Skate Day?'"
Alzheimer's disease is a chronic neurodegenerative disease that destroys brain cells, causing loss of thinking and memory over time, says the Alzheimer's Association of Canada. It is the most common type of dementia.
McNeil asks Canadians to join the cause and support the local Alzheimer's community by donating $19.26 to the local 1926 Skate Party and his website, 1926skate.com.
Donors are asked to share their support on social media with #1926skate or #RockAlzheimers.
"I want Canadians on Saturday to show the world how we #rock Alzheimer's," McNeil said.
There are two skate parties in Toronto on Saturday. It takes place at Nathan Phillips Square from 9am to noon and from 2pm to 4pm on the Samuel Smith Park Skate Trail in Etobicoke on the lake at the foot of Kipling Avenue.
The Alzheimer Society of Peel will host a skating party at Celebration Square in Mississauga on Saturday from 1-4pm. Windsor, Timmins, Hamilton, Belleville and Montreal also host skate parties.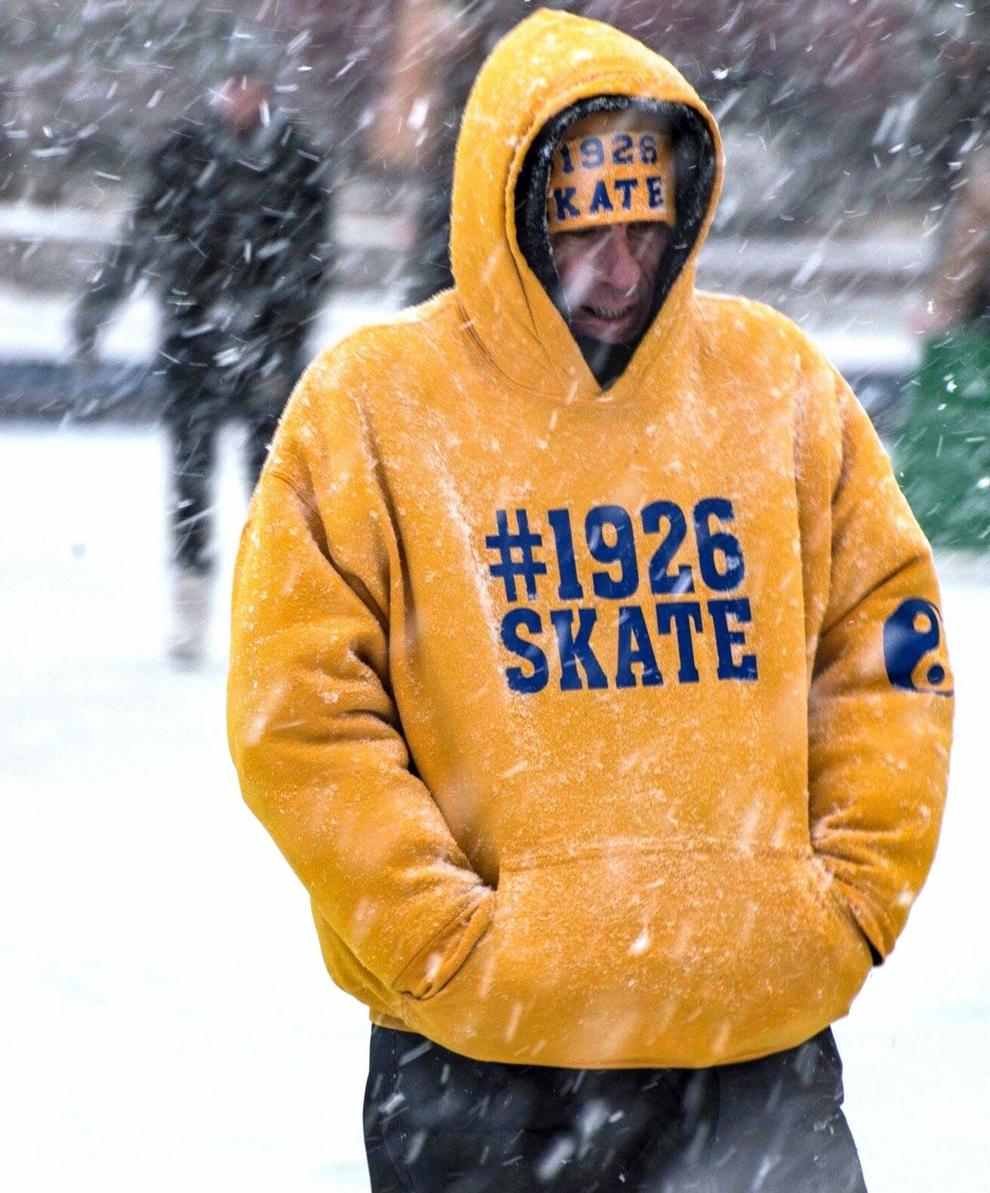 From his mother's birthday, Dec. 15, through this week, McNeil skated 19 minutes and 26 seconds at various outdoor rinks in Toronto every day. Earlier this week, McNeill gave Mayor John Torrey a yellow hoodie signed by a skater he met at her rink.
For the past decade, McNeill has skated the 1926 Skate at Nathan Phillips Square on December 15th each year.
He moved his annual skating fundraiser to January for better ice conditions to coincide with Alzheimer's Awareness Month. Last year he chose to skate in Kingston after the local Alzheimer's Association supported his skating.
"It's been a fun ride. I'm having a blast," McNeil said. "I'm not a business owner. I'm just a normal guy with Alzheimer's disease. Connect his AC/DC to his Bluetooth speaker and show up on the ice in a hoodie and skate."
In 2019, McNeil's 1926 skates received national attention when AC/DC found out about it and donated $19,260 to the Alzheimer's Association of Canada's music program.
"AC/DC donations are responsible for starting music programs in 33 communities across Canada during COVID," McNeill said. After that, what happened to me was just an explosion."
Judy Brandow met McNeill when he was her postman. Since then, she has organized her 24 his skates, booked rinks, hotels, airfare and media.
"Steve is so inspiring," Brandow said. "He's so dedicated to Alzheimer's disease. He keeps having these great ideas and making them happen."
McNeil and Brandow said they would not have been able to perform their 1926 Canadian-wide skating without the support of the Toronto Memory Program, a leader in memory and brain research. A comprehensive medical facility specializing in the diagnosis and treatment of Alzheimer's disease and related disorders, he has one of the largest Alzheimer's disease clinical trial programs in Canada.
Since 1996, Dr. Sharon Cohen, Medical Director of the Toronto Memory Program, and her team of research staff have been working to develop better treatments for Alzheimer's disease and related conditions.