I stepped into the courtyard of my small apartment and saw a small, curly-haired woman drying laundry with a café con lechet in her hand. She had just arrived in Triana, a quiet, working-class neighborhood in Seville, Spain. So, I wanted to calm my overwhelmed anxiety and start writing my next book.
I saw women arranging and arranging colorful blouses. With her green and yellow house dress rocking around her knees, she introduced herself with a big smile on her face.
I was in Spanish and asked if she could speak English. she shook her head. My Spanish is nominal at best, learned primarily from reading New York City subway advertisements. All I knew was that her name was Carmen.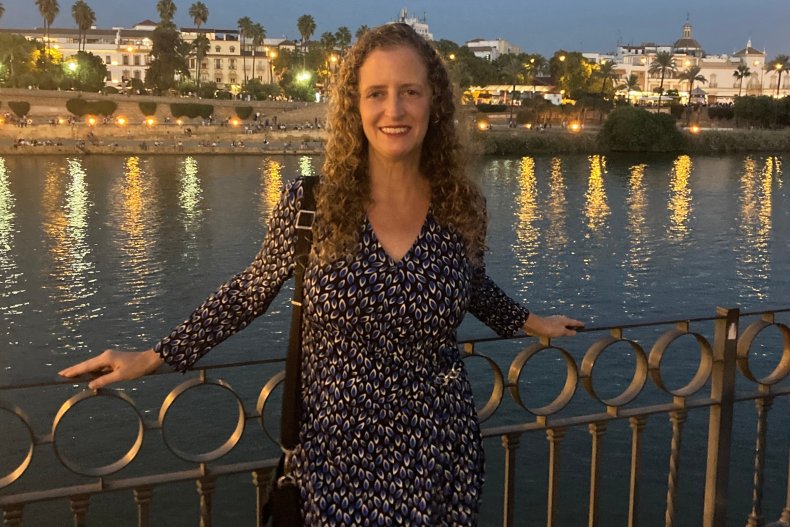 I laughed when my Airbnb host showed me around the apartment the night before and pointed to the laundry rack in the back of the bedroom closet. I didn't come to Seville to do housework. In fact, with the rest of my life back in New York, it was something I actively tried to escape.
I had tragically lost a close family member, was suffering from writer's block, and my marriage was going through a rough patch. I was barely living my life, and I was waiting for the moment when I could lay down on the sofa and watch Netflix unconsciously.
I felt like I had forgotten how to breathe. So when my teenage son was invited to Seville to play football, I jumped at the opportunity and a nearby place he rented for two months.
make new friends
Three days after arriving, I noticed that the apartment's washer/dryer unit was not dry. When I tried to run the drying cycle, it lasted hours and left my clothes soaked.
Carmen, who must have heard the machine running all night, knocked on my door the next morning and handed me a bag of clothespins. There were many hand gestures.
Soon she was inside my apartment and showed me how to run the dishwasher as well as how to set the washing machine temperature with a new symbol I hadn't yet deciphered.
She found a metal clothes rack in her closet and pointed to the clothespins she had just given me. I thanked her as she left, then stood in the middle of the living room, her clothespin in hand, wondering what to do next.
It was my son's first time living alone, so I was more nervous than usual, but I came to enjoy Seville. I walked out onto the cobbled street and started putting one foot in front of the other.
Five miles one day, ten miles the next, and every day after that we explored this vibrant city. We saw her flamenco dancers perform in Plaza de España, strolled through the gardens of María her Luisa Park, and stopped by the duck pond to see the chicks. Moving my body, soaking up the sun and discovering new places felt like a warm hug.
The next time I saw Carmen in the courtyard, I was staring at a blank computer screen and struggling to write. She motioned me to follow her, guiding me through her flowers, which were lovingly placed around the patio in blue and white ceramic pots.
Then we sat together at a small table next to the sliding glass door and she started chatting. I nodded and started downloading Google Translate. Say "Habla despacio por favor", which means "speak slowly".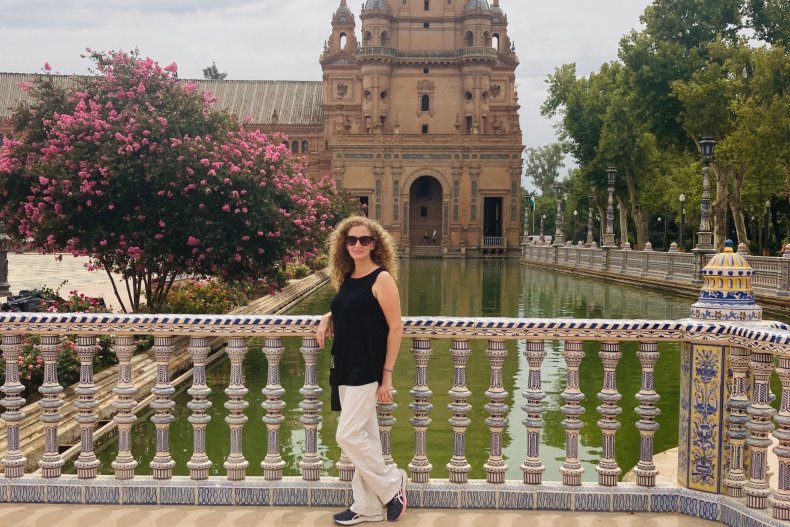 During my first few weeks in Seville, Carmen was the only person I communicated with. I was lonely and homesick, but as the tension in my neck and shoulders began to ease, I began to feel small changes in my body.
One afternoon I opened the sliding glass door with one hand while balancing a pile of wet sheets and a metal laundry rack with the other. The sheets are much larger than the rack and I couldn't figure out how to hang them without hanging them on the tiles in the courtyard.
Carmen saw me struggling and ran over. She gestured that she needed to move her rack closer to the door so it wouldn't block the passage leading to the other apartment. She then helped me arrange the sheets in a way I still can't replicate. was home.
change appearance
Some time later, as I was sitting in the courtyard, I noticed that my clothes were considerably plainer than those of others. Black top, black leggings, black underwear, white pants and white gym socks. I glanced at Carmen's rack of oranges, purples and florals. As a New Yorker, black was my uniform. It appeared to be in mourning in Spain.
I took calculated risks. The outfit was permanent, but it seemed possible to paint the toes bright red instead of the usual dark blue. I've never had patterned pants before. It takes another three weeks to find the courage to wear them.
When I finally did, I was so self-conscious that I almost changed my mind. I tried on three shirts before settling on a matching navy blue shirt. I could be whoever I wanted to be. I might be someone who wears wild clothes and takes fashion risks. But for now, I'll stick my pants into the dark theater.
my anxiety started to disappear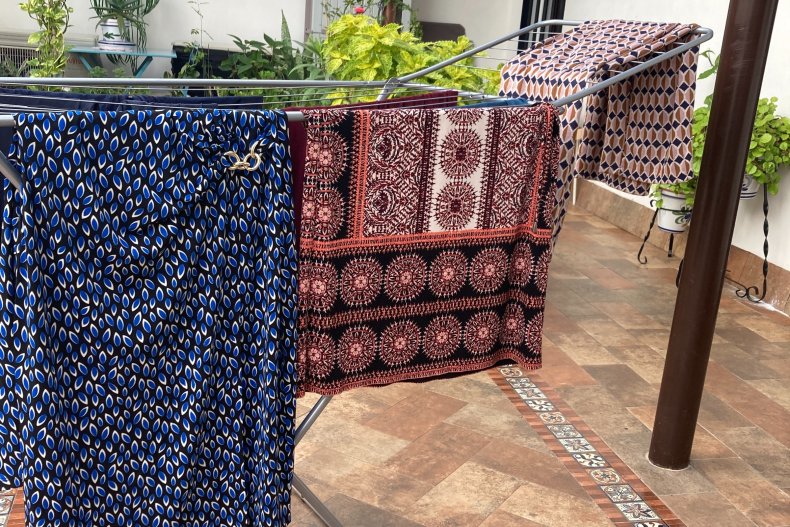 When the pipes in my rental backed up and flooded the bathroom, I used every towel in the apartment to soak up the water. left. Carmen came to help again.
"El sol es el más brillante aquí en la tarde," she said, pointing to the cloudless sky. "The sun is brightest here in the afternoon," I understood.
Under her direction, I carried the racks to the spot she chose and positioned them for optimal drying. When we were lining up and arranging the towels, time stopped. It felt good to dry the laundry.
After that, I tried to write at a small table in the courtyard. I could hear the clink of cooking and the smell of stew and meat from the apartment above. I usually had cheese and bread for lunch, or a creamy quiche from the bakery around the corner, while everyone else was cooking.
My anxiety was starting to fade, but it came in tiny increments, as archaeologists chipped away at the stone woman to reveal something softer underneath. I was finally able to catch a glimpse of who I used to be, before it got too difficult, and before time sped up and took my loved ones away.
At noon, when the sun remained unchased, my sorrows and anxieties were scarce, and I was a faded specter in the courtyard.
I receive the gift of mindfulness by slowing down and doing simple things like hanging laundry, taking a walk along the Guadalquivir River, or browsing stores full of colorful clothes. I had time to think, clear my head, and remember how to breathe again.
lesson i learned
Early one Monday morning, I managed to get the laundry to dry before Carmen watered the rose bushes. I retired to admire my handiwork. I took the time to switch tank tops for colorful dresses and found that they no longer existed in black and white. I was finally living in color.
I was due to return to New York in a few weeks, but I promised myself that I would apply the lessons I learned in Seville. I unearthed a woman buried under a layer of insecurity and felt confident and secure about what the future held. Perhaps most importantly, I was truly happy.
Later that morning, Carmen's voice echoed in the courtyard. She said, meaning "Good morning! Your clothes!" She pointed to my rack and smiled approvingly as she began sorting and hanging her dresses.
"Buenas Diaz!" I replied, then glanced at my new colorful outfit again, then opened my laptop and the words began to flow.
Aileen Weintraub, author of Knocked Down: A High-Risk Memoir, talks about marriage, motherhood, and the risks we take. Find her at aileenweintraub.com or follow her on her Twitter @AileenWeintraub.
All views expressed in this article are those of the author.
Have a unique experience or personal story to share? Email the My Turn team at myturn@newsweek.com.