The OG lineup, Elizabeth Hasselbeck and others joined current co-hosts to honor the legend.
The women of "The View" paid tribute to one of their Tuesdays in the show's first episode after the death of Barbara Walters. Walters died last Friday at the age of 93.
"While tributes have been pouring in from around the world to celebrate Barbara Walters, today we are reminded that we are friends and colleagues." I really don't know where most of us would be without her.
"It's true. We knew her better than anyone I think. She was very much against sexism, she was against ageism. She went straight into the lion's jaws." said Joy Behar. "She started her The View when she was 68. Few people start a new career at that age. She was the first role model for everyone else. It was truly unique and important to the industry."
Sunny Hostin recalled some of her first interactions with Walters after joining the show, and said she felt a sense of validation when Barbara agreed with Hostin's decision to turn the question into her own voice. .
"She started helping me. I thought about the generosity of that moment," she continued, getting a little emotional. asked me at a Hot Topic meeting, 'What do you think, Sunny?' I was like, 'Barbara Walters asked me what she thought?
"There was no one like her," added Goldberg before the commercial break. "There is no one quite like her, and like all firsts, she is the first, and many of us overlap, but there will never be another Barbara Walters.
After the break, the show's original co-hosts Debbie Matenopoulos, Star Jones, and Meredith Vieira appeared in person, on Zoom, and by phone, respectively. After Meredith praised how the show gave her the opportunity to "reinvent" herself, Jones revealed how much she loves Barbara spilling her tea.
"We ended up cooking with this woman… She was the best gossiper. She knew how to tell stories and drive the point home. "If you want to know tea, Barbara Walters had it!"
Matenopoulos recalled that Walters was "tough" with her when the show began, before explaining how much he "appreciated" the show and her guidance. to the mother-daughter relationship, saying, "She taught me everything. I was like Eliza Doolittle in My Fair Lady."
Holding her breath and teary-eyed, she said, "I owe her everything. If she hadn't chosen me, I wouldn't have had this career. All my life." , all I wanted to do was make her proud."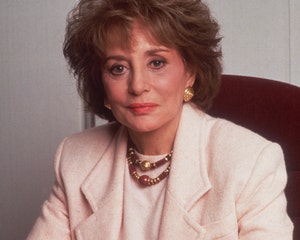 Getty
Barbara Walters dies, The View co-hosts, celebrities and journalists pay tribute to trailblazing reporter

watch the story
After another break, Lisa Lynn, Shelley Shepherd, and Elizabeth Hasselbeck also appeared to honor Walters. , Behar revealed that Barbara was No Like when she and Whoopi walked out during a particularly controversial interview with Bill O'Reilly.
"There was so much publicity around it, but she was fine with it," she added.
Speaking on Zoom, Hasselbeck said, "I didn't expect a wave of grief to come over me like she did because I thought we could all keep talking to her and sharing our thoughts." said.
"She and I had a multilayered relationship. She was my TV mom and my mentor…she had an infectious, caring curiosity." "She gave me a chance. She changed my life. It has enriched my life."
The show concluded the hour-long tribute to Walters with a highlight reel of Walters' best moments.