overview: Previous research has pointed to overlap between perception and memory, but new research finds that the two are systematically different.
sauce: new york university
A team of scientists has discovered that the brain works fundamentally differently when you remember something you've seen for the first time than when you remember something you've seen for the first time.
While previous studies have concluded that there is considerable overlap between these two processes, new research published in the journal suggests that Nature Communicationsrevealing that they are systematically different.
"There are definitely some similarities in brain activity when people see and remember things," said Jonathan Winauer, a professor of psychology and neuroscience at New York University and lead author of the paper. There are big differences," he said.
"These distinctions are important for better understanding memory behavior and associated distress."
"We believe that these differences have to do with the architecture of the visual system itself, and that visual and memory processes generate different patterns of activity within this architecture," the study said.
For decades, remembering what we've seen, whether it's a sunset, a painting, or someone else's face, has been thought to mean reactivating the same neuronal processes as seeing those images for the first time. However, the relationship between these activities of feedforward (vision) and feedback (memory) is unknown.
To investigate this, a research team including former New York University assistant professor Brice Kuhl conducted a series of experiments on humans.
Scientists used functional MRI (fMRI) technology to help subjects remember their makeup when they saw images — simple geometric shapes at various locations on a computer screen — and later on. We measured the response of the visual cortex when asked to do so.
By repositioning these visual shapes in experiments, researchers were able to monitor and understand the memory activity of the visual system with great precision.
Results showed some similarities between neuronal activity when initially processing these visual shapes and when asked to recall them. The parts of the visual cortex that were deployed when something was first seen (perception) were also active during amnestic processing.
However, activity in memory differed from activity in perception in a very systematic way. Many of these differences result from the way visual scenes are mapped in the brain. The brain has numerous visual areas to process and store incoming images. These areas are arranged in a hierarchy, a feature that has long been understood.
More specifically, the primary visual cortex (V1) is the first area to receive visual input and is therefore at the bottom of the hierarchy, mapping visual scenes in spatial detail. Signals are passed to subsequent brain maps for further processing. That is, the secondary visual cortex, that is, he is passed to V2, V3, etc.
Initial processing by the primary visual cortex accurately captures the spatial arrangement of images, while higher brain regions such as the secondary visual cortex extract more complex information. what color is that? Is it a cup or is it a bowl? But what you gain in complexity you lose in spatial accuracy.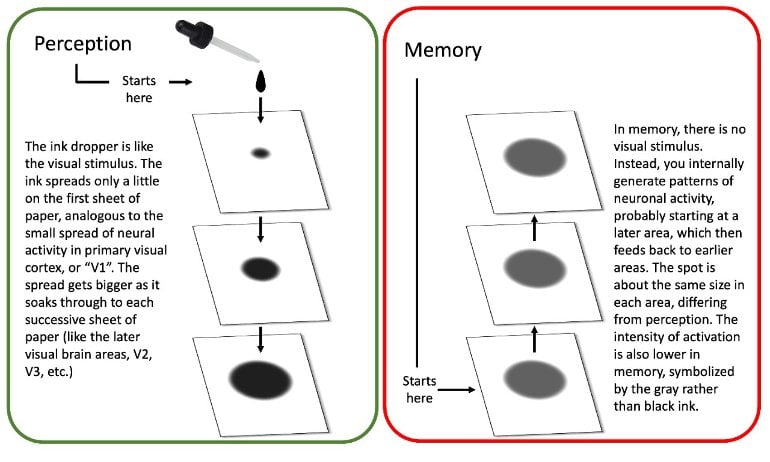 "The trade-off is that these higher regions extract more complex information, so we worry less about the exact spatial placement of the image," explains Winawer.
in the Nature Communications The researchers found that while perceiving small objects, it activates a small portion of the primary visual cortex, a large portion of the secondary visual cortex, and even a large portion of the higher visual cortex.
They note that this was expected due to known properties of the visual hierarchy. However, they found that this progression appeared to be lost when the visual stimulus (i.e., memory) was recalled.
Scientists say this is similar to ink spreading on layers of paper. In perception, brain activity becomes more distributed as we move up the hierarchy of organs.
In contrast, in memory, the ink starts at the top of the hierarchy, is already spread out, and doesn't get narrower as you go back down. Activity therefore remains relatively constant.
See also
This loss of progress in memory may explain why remembering a scene is so different from seeing it, and why there tends to be less detail available for memory.
About this perceptual memory research news
author: press office
sauce: new york university
contact: Press Office – NYU
image: This image is credited to Jonathan Winawer, NYU Department of Psychology/New York University.
Original research: open access.
According to Serra E. Favila et al., "In the human visual cortex, perception and memory have distinct spatial alignment properties. Nature Communications
---
overview
In the human visual cortex, perception and memory have different spatial entrainment properties.
Reactivation of previous perceptual activity is thought to underlie long-term memory retrieval. Despite evidence for this view, it is unclear whether mnemonic activity exhibits the same regulatory properties as feedforward perceptual activity.
Here, we leverage the collective receptive field model to parameterize fMRI activity in the human visual cortex during spatial memory retrieval.
Although retinal tissue is present in both perception and memory, large systematic differences in tuning are also evident. This pattern is not observed during memory retrieval, whereas there is a 3-fold drop in spatial accuracy from early to late visual regions during perception.
This difference cannot be explained by a lower signal-to-noise ratio or poorer memory trial performance. By simulating top-down activity in a cortical network model instead, we show that this property is well explained by the visual system hierarchy.
Together, modeling and empirical results suggest that computational constraints imposed by the visual system architecture limit the fidelity of memory reactivation in the sensory cortex.