Those who have worked during the Covid-19 pandemic have helped take development forward at a continuous pace. This award [Excellence in Governance Awards] will be remembered in years to come because those being felicitated have worked in such challenging times. When Covid-19 hit, it was difficult to maintain the parameters of good governance because saving people's lives became the priority. Crisis management has to be the priority. In that case, it is impossible to touch all the parameters of good governance. Simply maintaining good governance was a challenge at the time…
Good governance is the key to progress and development for any country, and especially for a democratic country. Without good governance in a democratic country, it is impossible to carry the spirit of the Constitution all the way to the bottom. The Constitution of India, which envisages equal opportunities and equal development for all, can be successful only when it is implemented through good governance at the district magistrate level, at the collectorate level. The mantra should be received well because in our country, the nodal agency for many schemes, and many works, even today, after 75 years of independence, is the collector.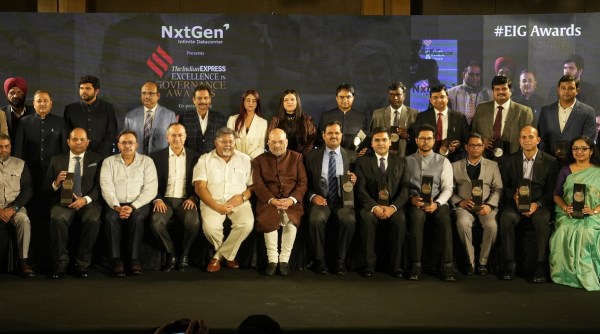 Union Home Minister Amit Shah, The Indian Express Group Chairman and Managing Director Viveck Goenka, Executive Director Anant Goenka, A S Rajgopal of NxtGen, Vikram Shroff of UPL and other partners with winners of The Indian Express Excellence in Governance Awards in New Delhi Tuesday. (Express photo by Abhinav Saha)
Poverty alleviation, protection of the rights of the people and overall supervision are all duties of the collector. Agricultural development and industrial development in the district are also monitored through the collector. All parameters of rural development are monitored through the collector, as well. Good governance at the district collectorate and the collectorate level is a big factor in ensuring that the benefits of government schemes reach the ground. This will help achieve our aim of equal development.
***
Ever since the Modi government has come to power, a lot of work has been done on both transparency and accountable administration. Along with these two issues, there has been a concerted effort to mould administrative reforms and good governance.
Today, as The Indian Express gives out the Excellence in Governance Awards, I would like to congratulate the paper. From the time of Ramnath Goenka ji, from the time of the British rule, till today, The Indian Express is known for its anti-establishment journalism. That's fine, whatever ills plague governance, whatever ills there are in the resolutions of the government, they should be exposed. But sometimes the effort you make, I am sure, is aimed at encouraging society and those who do good work within society.
That's why, once again, I want to congratulate Goenka ji. Maybe some people feel that this is a small way of encouragement. But I am sure that these awards are going to become a great medium to publicise the best practices that have been created, and to inspire innovation and leadership.
Today … the programme started with a film made by The Indian Express group in memory of Ramnath Goenka ji. We all watched it. Everyone who knows of the contributions Goenka ji made will agree that the film was very small compared to the work he has done. Ramnath Goenka ji was the first person in the country to keep business and journalism separate, and for this he will always be remembered. With boldness and fearlessness on many occasions, without any kind of bitterness, without prejudice of ideology, he exposed the truth.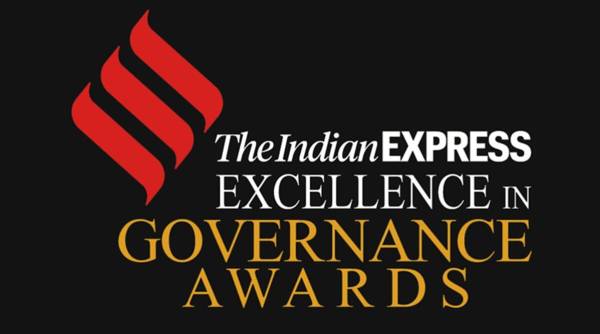 The winners were selected from among 400 entries that poured in from 182 districts across 29 states.
Besides lots of personal difficulties, his business also faced many difficulties. The government's fear and anger both had to be faced but he never backed down. I believe that his contribution during the Emergency and especially after the Emergency — bringing together Nanaji Deshmukh and Jayprakash Narayan along with national poet Dinkar — was critical.
A movement was begun and a huge change took place which wrote a new chapter in the democracy of India and the first non-Congress government came into existence in the country. It doesn't matter which party the government belongs to, which ideology it comes from, but after the Emergency, if you run the government in an uncontrolled manner (swachhand), the public can punish you. Since, the attitude of looking at the leaders in our democracy has changed and people have also learnt their rights.
From Mahatma Gandhi's movement till the Emergency, whenever there was an opportunity to do something for the country, whether it was the movement of 1942, Champaran Satyagraha or the incident of censorship during the Emergency, he was fearless and his agenda was always "India first".
I remember, I heard from many leaders of my party and from Nana ji himself that when both Ramnath Goenka ji and Nana ji were convincing JP to lead the movement after the Emergency, JP was not ready because he was keeping ill. His concern was how he could tour the whole country while ill. In those days, tours were not easy. One had to travel by trains, by vehicles; helicopters and planes were not even available and JP's health had become very critical. Ramnath Goenka ji, Rashtrakavi Dinkar and Nanaji Deshmukh all insisted JP lead the movement, and he conceded. What happened after, we all know.
But there are moments in history like this. There are some occasions that turn the tide.
I believe that Jayaprakash Narayan, Goenka ji, Nana ji Deshmukh and especially Rashtrakavi Dinkar, did the work of turning India's democracy in the right direction. All of us who are supporters and admirers of India's democracy should remember them. Today, I also pay tribute to Goenka ji from this platform with great heart and emotion and believe that this country will not be able to forget his contribution for many years, for many centuries. Whenever the history of democratic struggles will be written, everyone will have to reserve one page or one chapter for Goenka ji.
…
Today, as we have gathered to honour many district magistrates and collectors for the experiments they have carried out in their respective districts, I also want to talk about good governance.
I worked with Narendra Modi ji in the state government and as the party president after he was elected Prime Minister in 2014. I have also worked as a member of his Council of Ministers post-2019. The Prime Minister always believes that people-centric development is the basic mantra of good governance. The theory of good governance should not be imported from anywhere. We will have to prepare our own model of good governance by evaluating the condition of the people in our country. If we import the idea from somewhere else — say, from a country with a population of two, three or 10 crores — and impose it in our country, which is so diverse in food habits and dressing, that model is bound to fail, whether we admit it or not.
So, we will have to make our own model of good governance. In our model, the process needs to be bottom-up. We must be open to the suggestions of even the smallest person — they should be a part of the process.
The model should be inclusive. It should touch every person from the bottom strata of the society, it should be all-inclusive and it should be a model that includes everyone. There are many types of districts in this country. Some are coastal districts, some located in forested areas. There are districts situated on the foothills of mountains, some in Himalayan states and some inside inaccessible forests.
There can not be a single model for all these districts. The model should be developed by looking at local conditions and it should be all-inclusive and universal. No single model can develop every district of this country. However, some basic things can definitely be decided upon. So, what should be that model? The model should ensure corruption-free governance. It should come with the promise of transparent governance and policy-making. Policies should be specific and clearly explained. It should be a model that solves this fundamental problem.
It should be a model consisting of both accountability and sensitivity. Responsibility and sensitivity should also be enshrined in it. Innovation should be key to problem-solving. Until problems are not addressed, a district does not develop completely. Until a district is developed, there should be stability in its policy's methodology, goals and achievements. The model should be such that it builds trust between the people and the government. That means no model of good governance can be successful without the participation of both the government and the public. Based on this alone, we have to mould the model for our country.
…
So far, India has seen 15 prime ministers and 22 governments. Everyone has tried to take this country forward in their own capacity, in line with contemporary realities, according to the available resources. We can never think that the work of development or taking the country forward is done by one person or one government; we should accept that everyone has tried to take the country forward.
We should accept this. But some efforts have played an instrumental role in changing the country. I don't say this because I am a worker of the Bharatiya Janata Party; not because BJP is running the government; or because I am Modi ji's companion and Modi ji is the Prime Minister. I am saying this because I know the audience I am speaking to, currently.
Irrespective of the ideology of the government, if there is no openness to accept the results that they have produced, we are not doing journalism. We are doing the work of an activist. An activist cannot be a journalist. A journalist cannot be an activist. The two have different norms. Both are different jobs. Both are very good in their own places. Conflating the two will create a big mess. Nowadays, it is quite visible.
…
This country has seen a big change since Narendra Modi ji became the Prime Minister. Previously, policies were made with votes in mind. The government's priority during policy formulation was to ensure that they are re-elected. The policies of this government were never made with that in mind.
The policies of the Narendra Modi government have never been made with the intention of having people like it. Rather, the intention was that it should be good for the people. When we brought in the GST, it was natural for us to face protests. With DBT too, we knew there would be a lot of protests. It is obvious: Middlemen, the people who were taking advantage of the system, would not like it. All these may be bitter decisions, but we have taken them in the interest of the people.
I am saying this because if we want to understand the policy, then we have to understand the basic principles that have been kept in mind while making the policy. We have never thought of vote banks while making policy. While making the policy, we have only tried to find the solution to the problem.
We have never visualised problems in a piecemeal manner. There were schemes in place before we got into the picture. Poor people would get houses, toilets would get built, but on the basis of token allocation in budget. Earlier too electricity would reach villages and houses, but again, on the basis of token allocation. Policies were never formulated to address the root of the problem.
The Modi government has changed the scale and size of policies. For example, we are not saying we will make so many toilets this year. We make targets such as by the end of 2024, every house in the country will have a toilet. And I am happy that even though 2024 is still away, the BJP government has already achieved this goal.
We did not think that this year we would be able to provide gas cylinders to 50 lakh people. By providing gas cylinders to 13 crore people — including five crore people who did not fulfil the criteria — at one go, we achieved the goal of freeing every poor man's hut of smoke. In eight years, we have provided three crore houses — to people who did not have a house for five generations and were living on the roads, in juggies and footpaths.
At one go, 50 crore people have been freed of the worry of healthcare expenditure of up to Rs 5 lakh under the Pradhan Mantri Ayushman Bharat Yojana. We didn't say we will do this for one crore or two crore people. We did it for 50 crore people. If you juxtapose these figures to the populations of various countries, you will find the entire European Union or Japan or Canada being covered. Such large swathes of the population have been rid of fundamental problems by the Modi government. I say this to emphasise what the focus of the budget should be while formulating policies.
In 2014, even after 70 years of independence, there were 30,000 villages where electricity had not reached. There is no count of households. Almost four crore households had not seen electricity. We provided three crore new houses along with electricity, and four crore existing households were given new connections. Today there is not a single village in the country where electricity has not reached. Every village and every household today has electricity.
So while making policies, by keeping in mind the continuity of policies, availability of resources and by changing the scale and size of the policies, the Modi government has brought in an approach that targets the root of the problem. And I believe this has had a major impact.
The use of technology has also been given great importance. Those looking at it critically may not call it so, but I call it innovation. I interacted with citizens of various countries during the Covid pandemic. Those who wanted to come to India did not have a vaccination certificate. But any of you who took the vaccine must have got a vaccine certificate, with a smiling photo of Modiji, on your mobile phone within 20 seconds.
Even after we got the vaccine, the big question was: How will we administer them in a country with 130 crore people? First, people said we won't be able to make our own vaccine, then cast doubt over its administration, and said that dead bodies will have to be carried in trucks. People argued that India would suffer the most as its health infrastructure was not up to the mark. But we fought well against the pandemic. We covered 130 crore people under the vaccination programme and secured the nation.
Irrespective of political ideologies, the art of taking along all state governments is also reflected in the policies of this government. Some states have a Congress government; then there is DMK and Mamata Banerjee's government. But all of them cooperated. Modi ji took everyone along. I used to conduct online meetings. We reworked policies based on the suggestions given by chief ministers in over 30 online meetings. We also gave state governments guidance. With these steps, we were able to overcome the pandemic.
The other big fear was the spread of hunger throughout the country due to the lockdown. The lockdown had to be imposed. Some people criticised that as well. But when saving lives is the priority, you cannot be bothered about other things. Our government's priority is to save lives and we have done better than the rest of the world.
But when the lockdown was imposed, obviously, people lost their livelihoods. How would daily wagers feed themselves? But we tackled that challenge well. By giving 5 kg foodgrains each to 50 crore people every month, we saved lives. When foreigners hear about this figure, they shiver. They wonder, "You fed 50 crore people for two long years?" I say, "yes, we did".
The basis of all policies should be the development of poor people. So, I have tried to lay bare some good governance models that the government has integrated into the process of policy formulation.
As far as public facilities are concerned, our administration works in a hierarchy. There are different challenges at every level. The challenges that a district collector faces are not seen in the same light by the development commissioner. And in the Secretariat, it is looked at even more differently. Our officials also need to look at the suggestions coming in from different levels through the grassroots prism. And from above they must take the bird's eye view. Only then can they design a governance model.
PM Modi gave the formula of Minimum Government and Maximum Governance from the ramparts of the Red Fort. And he has successfully taken it to the grassroots. The big schemes that I spoke of were successful because they were implemented through this formula.
There were four specific points that were prepared for this. First was the decentralisation of development. This government started the decentralisation process taking the ground situation into account. Alongside this, we adopted the policy of Sabka Saath, Sabka Vikas aur Sabka Prayaas. We brought in people's participation in all programmes of the government. We ushered in the idea of continuous improvement in performance based on competition. And the idea of improving implementation through the use of technology. Through these four things we have adopted the policy of Minimum Government and Maximum Governance to the grassroots level.
Since I am addressing district magistrates here, I want to say one thing. In 2018, Modi ji announced a programme of aspirational districts. There is a lot of diversity in the country. There is a village near the coast or in the jungle or on the top of a mountain or affected by Maoist violence where development has not reached. He marked 112 comparatively underdeveloped districts in 27 states. Some key parameters of demonstration were established and on the basis of these parameters, competition was prepared. So the districts keep going up and down on the indices every week. So, the way a district collector checks his sugar every morning, he also checks where his district has reached every week.
Fundamentally, five basic principles were established: Health and nutrition; education; agriculture and irrigation; financial inclusion; and basic infrastructure. On these five issues, several other issues were set up, on the basis of which healthy competition was initiated. I am happy to say that in most aspirational districts today, the lack of domestic power connections and personal toilets has been addressed. A qualitative change in child nutrition is visible, vaccination among children has reached over 90 per cent.
All this is based on the policy of Three Cs. First, convergence: There should be no difference in central and state policies. Second, collaboration: central and state officials work together to achieve goals. Third, competition: Every district collector should be driven by the passion to take his district out of the aspirational district list and make it better.
We often try to find good governance in the corridors of Delhi and its Secretariat. In Jharkhand's Maoist-affected Lohardaga district, we have been successful in reducing maternal mortality by half. In Rajasthan's Karoli, Arunachal Pardesh's Namsai and Tripura's Dhalai, institutional delivery has increased from an average of 40 per cent to over 90 per cent. In UP, the average was 23 per cent. Today, it is 85 per cent In MP, it has increased from 82 per cent to 90 per cent And in Bihar, it has gone up from 62 per cent to 74 per cent.
Institutional delivery is a difficult task. Improving maternal and infant mortality rates is a difficult task. In Chhattisgarh's Sukma, vaccination rates used to be less than 50 per cent. They are now 92 per cent. In Assam's Goalpara and Manipur's Chandel, vaccination of animals has increased from 30 per cent to 87 per cent. In aspirational districts, financial inclusion has increased from 30 per cent to 90 per cent.
We can sit in Delhi and talk about good governance. We can write good articles which will be read. If The Indian Express publishes it, we will have to read it. But if we want to understand the reality and improve our journalism, we will have to go to the grassroots level.
We are now taking the aspirational district programmes to the block level and there will be a healthy competition among blocks as well.
We have also taken multiple steps for administrative reforms. Promoting citizens' charter, making an index for evaluation of national e-governance service delivery are some of the steps taken. Earlier, government officials functioned based on the rules made for governance. The Modi government has transformed rule-based learning into role-based learning. What is your role? Based on that, you will have to determine the methodology of your work and you will have independence in it.
Like Mission Karmayogi, a Capacity Building Commission has been formed which contributes to capacity-building of government servants. To bring reforms in government recruitments, the National Recruitment Agency has been set up. For grievance redressal, CP Gram has been established.
As far as e-governance is concerned, I want to mention one nation, one ration card. There are 70 crore people in this country for whom a ration card has great importance. If a person from Bihar working in Gujarat as a labourer has to eat every day in a dhaba, he will not be able to send money back home. So, what is the solution? The government gives wheat at Rs 2 a kg. One ration card, operating online, helps him take 1.5 kg of the allotted 5 kg grains in Gujarat while his family back in Bihar gets the rest of the 3.5 kgs. This is such a huge facility for a poor person. We can't even imagine it.
It is unfortunate that I have not read even one article on this.
We have turned the post office into passport seva kendras, banks. Now, if the bank is far away, youngsters armed with laptops come to your village and give you money against a commission. Now, the government is making efforts to ensure that there is a bank within every 5 km. And I can tell you with certainty that by 2024, every person will have a bank in his five km radius.
Through e-governance tools of digital locker, e-hospitals, Bhim App, Umang app and other applications, we have tried to solve people's problems. In 2047, when India celebrates a century of its independence, we will be a completely developed nation. We have set out to make the Indian economy worth US$ 5 trillion by 2025.
In 2004, Atalji left the economy with it ranked 11th worldwide. India retained that spot between 2004 and 2014. Between 2014 and January, 2023, our economy has reached the fifth spot in the world. In the history of economic jumps, this is the biggest one yet and achieved in the shortest duration. But few people have taken note. The IMF has recently said that India is a bright spot in a dark zone.
We estimate a growth rate of 6.1 per cent in 2023-24, which is highest among all G20 countries. Morgan Stanley has estimated that by 2027, India will leave Japan and Germany behind and become the world's third largest economy.
There are more than 5,000 projects whose foundations were laid as far back as 40 years ago but were never inaugurated. Now the PM himself monitors the progress of all these projects. Thousands of crores of rupees were invested and there was no progress. No journalist wrote about it. We have inaugurated them and are implementing them.
The Modi government has brought to the country political stability, corruption-free governance, development-oriented policies, investment-friendly agendas and a peaceful environment. India ranks first in smartphone data consumption, global fintech, and IT BPO, and is the third largest aviation and auto market. Through PLI, investments of more than Rs 2.5 lakh crore have come in 14 sectors. In other sectors too, investments of Rs 4 lakh crore have come in.
Recently, we have approved Mission Green Hydrogen. Through primary applications alone, investments of Rs 8 lakh crore are expected in the next two years in one field.
As far as startups are concerned, in 2014, there were only four startups in the unicorn club. Today, there are 70,000 startups and 10 in the unicorn club. This is proof of the great platform the government has provided for the youth.
In 2022, we received FDI worth $83 billion. We have focused on expenditure. The average GST collection in 2022-23 has already crossed Rs 1.5 lakh crore. This is an answer to those who call it Gabbar Singh Tax. UPI transactions touched Rs 13 lakh crore in 2022-23. It is the highest in the world.
Success is achieved based on effort. Based on well-planned efforts. And when these efforts are on the basis of policies and good governance, these policies must be studied. We have tried to usher such a huge change into the country. We have provided electricity, houses, toilets, food grains, healthcare to 50 crore people. Perhaps, this has never happened in the history of independent India.
To the DMs being awarded today: Recognition can often lead to complacency and laziness. Consider this recognition motivation to surge further ahead. A dream that does not make you lose your sleep, is not a dream. So dream about things that don't let you sleep for years. Dreams that do not have you, but others. The satisfaction that you will get by dreaming for others and for the nation is not something you will get even after becoming cabinet secretary. This has been my experience.
Those who are getting awarded, I wish you continue to serve India.
Translated from Hindi by Deeptiman Tiwary and Harikishan Sharma