Researchers from Europe and around the world are invited to comment on the recently published position paper on the vision for the next decade in digital brain research.
"The Next Decade of Digital Brain Research – A Vision for Neuroscience at the Crossroads of Technology and Computing" is available for comment on the open access platform Zenodo from March 2022. The Living Paper has now been updated with the first round of community input and published as the second edition on June 10th.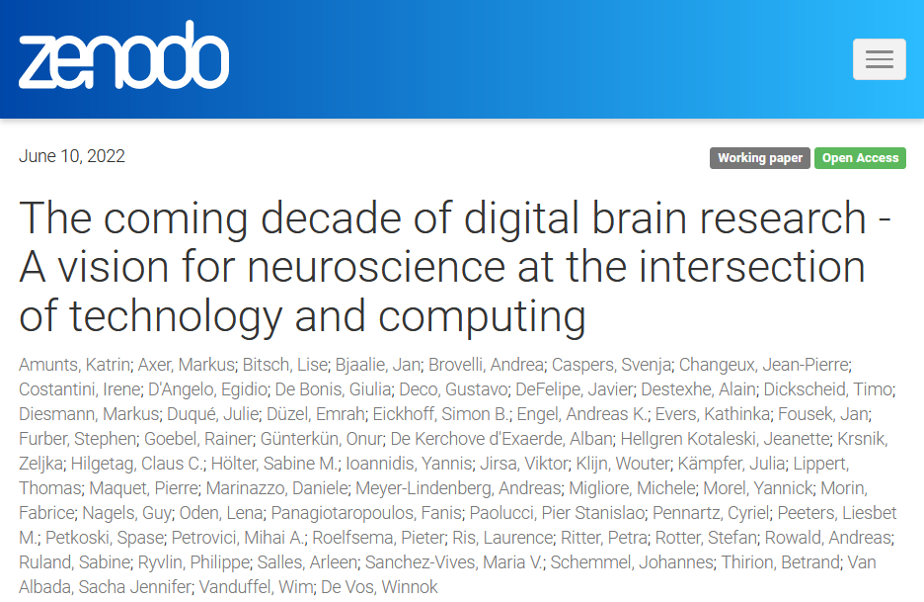 The policy paper outlines a vision for neuroscience at the intersection of technology and computing. It highlights how a systematic approach is essential to meet the pressing medical and technological challenges of the next decade.
This paper was produced in a participatory process initiated by the Science and Infrastructure Board (SIB) of the Human Brain Project (HBP) and is open to the entire research community. Comments are reviewed and synthesized on an ongoing basis, and updates to the manuscript are published every few months.
A common policy paper has been drafted with the aim of developing concepts for the next decade of digital brain research and identifying points of convergence and common goals. The authors believe that discussions on the subject of digital brain research will help advance progress in the broader field of neuroscience.
The new science of the brain described in this paper integrates high-quality basic research, systematic data integration across multiple scales, a new culture of large-scale collaboration, and translation into applications.
Read the new edition of the position paper:
Amunz et al. (2022). The Next Decade of Digital Brain Research – A Vision for Neuroscience at the Intersection of Technology and Computing (Version 2.0)
comment
To submit comments on the current version of the manuscript, please use this comment form.
Detailed information on how to become an author or supporter of a paper can be found in the comment form.